'Save Lalbagh Fort, Mohasthangarh'
No action to evict illegal structures despite High Court directive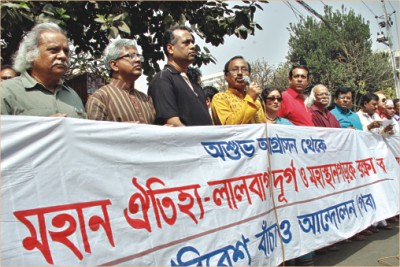 Poribesh Bachao Andolon (Poba) at a human chain yesterday demanded protection of the Lalbagh Fort in Dhaka and Mohasthangarh in Bogra.
Speakers said illegal high rises were constructed at the southwest side of the fort, which makes the heritage site unable to see.
Moreover different kinds of programmes including concert are being held inside the fort despite the High Court's directive to stop permitting those programmes there, they said.
The speakers alleged that the authorities concerned did not take any move to evict the illegal structures despite the HC order.
They also said the construction work at Mohasthangarh is going on destroying the 2,300-year-old artifacts of the site violating the HC order.
The artifacts being found during excavation at Mohasthangarh are destroyed, they told the human chain organised by Poribesh Bachao Andolon (Save Environment Movement) in front of the National Museum in the city yesterday.
Former dean of Buet, Saheda Rahman; convener of Oitijya Shongrakkhan Parishad of the SEM, Prof Samsul Wares; Prof Dr Sayed Ahmed of Asia Pacific University; Prof Lala Rukh Selim of Dhaka University; president of Jatiya Puja Udjapon Samity, Kajol Debnath; Prof AKM Shahnewaj of Jahangirnagar University; Prof Mohammad Ali Noki of Stamford University; and SEM chairman Abu Narser Khan also spoke at the event.