Tripoli at stake
Bangladeshis find it hard to leave Libya as battle intensifies around the capital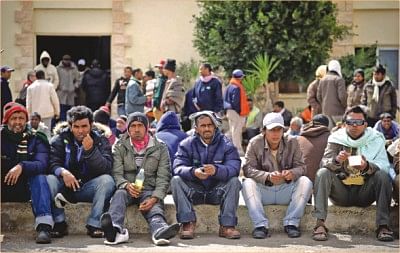 The Bangladeshis trapped in the Libyan capital could face a disastrous situation, as rebels and pro-Gaddafi forces fight around Tripoli.
Around 15,000 Bangladeshi workers live in Tripoli, a stronghold of Gaddafi. Another 45,000 Bangladeshi nationals work elsewhere in the North African country.
Waiting for hours, many of them failed to get any flights with some airlines cancelling their flight schedules, said the expatriates and their relatives in Bangladesh.
They do not go out of their camps fearing looting and attacks. Majority of them have little or no food.
In most cases, officials of their employing companies have left for their countries.
The international humanitarian agencies are yet to reach Tripoli or nearby cities, though the Red Cross has started operation in Benghazi, which is under protesters' control.
United Nations agencies said the security situation in and around Tripoli made it very difficult for international aid organisations to assess the need for food, medicine and other supplies.
Saiful Islam, one of the 20 workers staying 10 kilometres away from Tripoli Airport, told The Daily Star they were surviving only on bread.
"We don't have our passports with us. Our company kept those, but they left us. We cannot go out of our camp; moving to Tunisia or Egypt is out of question," he said, adding that they have no contact with the Bangladesh embassy in Tripoli.
Lokman Hossain from Gazipur said his brother Humayun Kabir was staying in one of the camps of around 4,000 Bangladeshis. They all worked at a South Korean company, Sinhan, in Tripoli.
"The company was supposed to take them to Tunisia, but it is now refusing to do anything," Lokman said, adding that they were facing serious food crisis. They also do not have any money to buy food or call home even.
Meanwhile, several hundred workers took shelter at the Bangladesh embassy in Tripoli. There is no room to accommodate any more, sources said.
The embassy is asking other Bangladeshis in Tripoli not to move from where they are now, Bangladesh Ambassador to Libya ABM Nuruzzaman said.
The Bangladesh government has no plan for a full-scale evacuation.
Foreign Secretary Mijarul Quayes said the government is asking the employing companies and the international organisations to relocate the Bangladeshis to safer places.
FOREIGN MINISTER'S CALL
Foreign Minister Dipu Moni has urged the international community to fulfil its obligation by ensuring safety and security of the 60,000 Bangladeshi workers stranded in the troubled country.
She was addressing the UN Human Rights Council attended by the foreign ministers of 35 countries in Geneva on Monday.
The International Committee of the Red Cross (ICRC) and the International Organisation for Migration (IOM) assured her of full cooperation for repatriation of the Bangladeshi workers as she called on IOM Director General William Lacy Swing and ICRC President Yves Daccord yesterday morning.
The IOM has already lined up four flights -- two from Tunisia and two from Egypt -- to fly Bangladeshis home. These flights are expected to reach Dhaka within the next couple of days with about 1,000 people.
Over 3,500 Bangladeshi migrants are at the Egyptian border, while 3,000 at the Tunisian border with Libya, said the IOM.
With assistance from the IOM, another group of 40 Bangladeshis is expected to arrive in Dhaka on Friday.
The international body is today brining home 383 Bangladeshis who crossed the Libyan border into Egypt and Tunisia.
Besides, a Chinese company moved 804 Bangladeshi workers to Greece from Libya on Sunday. Of them, 143 will reach Dhaka today, a foreign ministry press release said.
Nearly 6,000 more fled to Egypt, Tunisia and Niger. The IOM is assisting them with documentation and food, said a bulletin of the IOM.