GP promotes Facebook in Bangla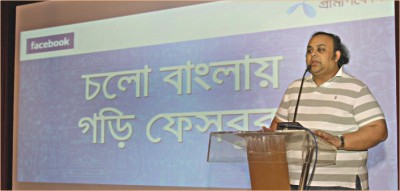 Grameenphone in association with Facebook has taken an initiative to translate the social networking site into Bangla, the mobile operator said in a statement yesterday.
After its completion, the initiative will allow people to browse the site in Bangla by cellphone, Grameenphone Chief Commercial Officer Kazi Monirul Kabir briefed reporters at GPHouse in Dhaka yesterday.
Although enthusiastic users started translating Facebook into Bangla earlier, there still remains a significant part unattended, the statement added.
Now, Facebook users in Bangladesh will be able to participate in the translation process using their accounts. To translate the site, one has to join Facebook and log on to www.facebook.com/translations. They have to select Bengali as "translations app language" and then save it as "update preferences" after clicking on "preferences" on the left side of the page. The transformation will start after clicking the "translation" icon.
Having Bangla font in personal computers is a must to take part in the initiative. One can also vote the best Bangla translations previously done by others through the site.