Bryan Adams Romances Dhaka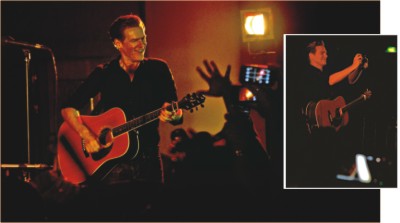 It is a rare occasion when a world renowned musician pays a visit to Bangladesh. Usually we have to be content with performers from neighbouring countries dropping by. The hype that surrounds those events provides only a small glimpse of the excitement over the recent concert by Bryan Adams as part of his Bare Bones Tour.
By 7 o'clock on Friday night, the drive-in of Bangabandhu International Convention Centre was packed with long snaking queues of music enthusiasts waiting for the gate to open. The atmosphere was charged with a mix of emotions, not least of which was the overflow from the build up of the ICC World Cup 2011. Inside the Hall of Fame, there were no opening bands, only a little light music playing in the background.
When asked whether he was a fan, Shafkat, a second year student of North South University, said, "Not really. I've heard some of his songs. But this is a big step forward for Bangladesh. He is a legend and this will probably encourage more international-standard concerts. I'm here to support this kind of events."
Once everyone took their seats, the man of the hour took centre stage, with Gary Breit on the piano. He started off with "Run To You" followed by "How Do Ya Feel Tonight", but it was when he hit "Here I Am" that the crowd really joined in.
Bare Bones is a live acoustics album, comprising mostly guitars and piano, with the occasional mouth organ piece thrown in. As many moonlit nights on the beach and rooftop parties can testify, unlike plenty of other music, covers of Bryan Adams songs sound decent accompanied only with guitars. He is well aware of that. In between the songs "You're Still Beautiful To Me" and "Heat Of The Night", Adams told the audience, "I thought this would be a good way to get to know my music. It's mostly just the guitar. Forget about Gary." The last line prompted the crowd to chant for Gary and eventually, Bryan yielded by performing "Not Romeo Not Juliet", which had "the longest piano solo of the performance."
Adams didn't stick to songs strictly from the album. He mixed things up, playing old favourites and sometimes songs few people had heard before. Predictably, the crowd sang as one to "Everything I Do". Adams might as well have taken a breather during that one.
But what really captivated music lovers, was his guitar skills. It was just acoustics, yet one didn't miss the drums, the bass, the multiple layers of electric guitars. It really was a one man show. The finely woven music made everything else seem unnecessary. Adams' energy, at the age of 51, was also admirable. Performing more than 20 songs in a row is no mean feat. Then again, the Canadian star has been on stage since he was 15.
Before singing "Cuts Like A Knife", which he wrote when he was 23, Adams told the audience that he "Never thought [he] would be here," when he wrote that song and that, "It's amazing to sing it for you." Near the end of the performance, he invited people to leave their seats and stand in front of the stage, which drew the expected mad dash to the front row. In an instant, people with Bronze tickets were elevated to Platinum status, with some getting the chance to touch Adams' guitar. The artiste finished his performance with another of his classics, "18 Till I Die", and left amidst thunderous cheer and applause.
The event was chiefly sponsored by Robi, with partnerships from Panasonic, Rexona and Coca-Cola. Maccom was the event management partner, while Aamra was the IT partner. The event was presented by MediaAxis.