Steady start at 'Ekushey Boi Mela'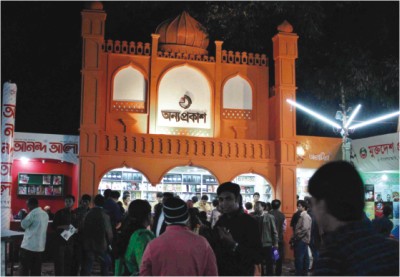 There is a notice board placed on the wall of Bardhaman House dedicated to providing updates about everyday new books. The board usually displays flaps of the day's books. Though on the second day a total of 29 new books were published, the board showed only seven flaps.
While enquiring about the discrepancy from the Bangla Academy authorities, it was learnt that it is not a must for the publishers to provide flaps of new books to the Academy. The publishers only provide information such as the name, price, publication house etc. about a book. "Though it is not a must, we can request the publishers to provide flaps so that we can provide detailed information to booklovers," said Murshiduddin Ahmed, Deputy Director of Bangla Academy.
Many spectators and buyers who came to the fair felt that it would be more effective if the board conveyed more information about new books.
Of the 29 books published on the second day, eight are novels and eight are compilations of poetry. Amongst new books, Humayun Ahmed's "Himu Ebong Ekti Russian Pori" sold like hotcakes. The book is published by Gyankosh. Onno Prokash has brought out Ahmed's autobiography "Fountain Pen" which is dedicated to the Bangladesh Cricket Captain Shakib Al Hasan.
Prior to the ICC Cricket World Cup, Shobdo Shilpo has published a book on the game titled "Cricket Ebong Biswacup Cricket" by Ashrafuzzaman.
The information booth was also not prepared till the evening of the second day of the fair. Consequently, many booklovers had to negotiate a veritable maze to find the stalls of their choice. In explanation, volunteers at the booth said that they had not received adequate information about the stalls yet, as the authorities had said that it would take an extra day to fully prepare the booth.
Enthusiastic crowds streamed into the fair till the evening, as the mela remained open for half an hour more after the closing time of 8pm. Yesterday, as it was a weekly holiday the crowds were much large in numbers than they were on the preceding days.