India up prices of exported rice again
Refixes it at $500 from $425 a tonne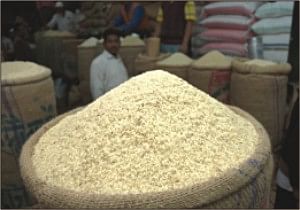 India has increased the minimum rate of different kinds of rice exported to Bangladesh to $500 from $425 per tonne, which rice traders said will cause further rise in the already hiked price of the commodity in domestic market.
In a notification on Thursday, the commerce ministry of the Indian central government increased the prices of exported rice with effect from yesterday, our correspondent at Benapole reports.
Rice importers have described the Indian government's decision as an indirect effort to ban rice export to Bangladesh.
"This price hike will discourage Bangladeshi traders as the per-kilogram cost of rice will stand at Tk 35 which will further increase after adding transport and other costs," said Nasir Uddin, a rice importer in Jessore.
An Indian High Commission spokesman, however, could not confirm the increase in the price of rice exported to Bangladesh.
He told The Daily Star that they are still discussing the issue of five lakh tonnes of rice to be especially exported to Bangladesh as relief for the cyclone-hit people.
"India has been trying very hard to keep the price low for the five lakh tonnes of rice earmarked for export to Bangladesh," the spokesman said last night.
Nasir said, "A few Indian rice exporters told us that it is possible to export rice to Bangladesh with profits at prices between $355 and $360 per tonne. But the government policy is not allowing them to export rice at that rate."
Another rice importer, Tipu Sultan, said traders prefer importing rice from India as the transport cost for per kilogram rice is less by Tk 7 compared to other countries.
"We have suspended importing rice from India after the latest price increase as it is not possible to profit at this price," he said, adding that if imported, the minimum price of per kilogram rice will stand at Tk 37 in domestic markets.
Wholesale traders in Dhaka, meanwhile, blamed low production of rice for the crisis in the market, which has led to the price hike.
"Overall production of rice in the country this year was less than that of previous years and this prompted us to turn towards the international market for importing rice," said a rice trader. "But it is difficult to get rice in the international market due to high prices," he added.
According to the data of Trading Corporation of Bangladesh (TCB) on yesterday's market price, the price of coarse rice was Tk 28-30 per kilogram, which is 16 percent higher than the price a month ago and 57 percent higher than the price in the same period last year.
The prices of other varieties of rice have also increased by 9-13 percent compared to the prices a month ago.