Manipuri people protest bid to grab top activist's land
Human chain, rally in Sylhet city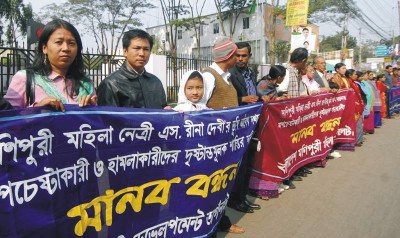 Members of the Manipuri community yesterday demanded immediate action against the gang that tried to grab the land of veteran activist S Rina Devi in the city's Shibganj area on Sunday.
Rina is president of the Bangladesh Manipuri Mohila Samity.
The protesters also staged a human chain and held a rally at the Central Shaheed Minar in the city to press for steps to save the ancestral property of the people of indigenous community from local grabbers.
Activists of the Bangladesh Manipuri Mohila samity, Bangladesh Manipuri Sahitya Sangsad, Integrated Manipuri Association, Ethnic Community Development Association, Bangaledsh Manipuiri Jubo Samity, Bangladesh Manipuri Chhatra Samity, Patra Sampraday Kalyan Parishad and Tribal Welfare Association, among others, joined the programmes.
They later submitted a memorandum to the Prime Minister through the Deputy Commissioner of Sylhet.
In the memo, they alleged that a Sylhet city ward councillor led the gang of 70 to 80 goons who attempted to grab the family land of Rina Devi on 23 January.
A son, a daughter and three others of Rina Devi's family sustained injuries as the culprits launched an attack, the memo added.
However, as the police and Rab teams reached there, the gang left the scene after a while, locals said.
A case was filed on the following day with the Sylhet Kotwali police station against 70 to 80 people, including 8 FIR named, but none was arrested.
Manipuri community people in the area are now passing their days in panic, the memo further said.
In the memo, they called for ensuring law and order in the area to remove fear and uncertainty among the members of the community.