CU Museum sinks into obscurity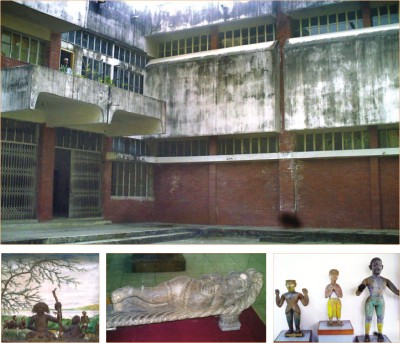 Chittagong University Museum, one of the richest museums in the country, remains unknown to students, teachers as well as to people for over 38 years.
The museum started its journey with four cannons of medieval period and a few clothes of Mughal period. Prof Dr A R Mollik, first vice-chancellor of Chittagong University, had played a pioneering role in this regard.
Erstwhile National Bank of Pakistan donated these cannons and clothing to the history department of the university.
Formally established in June 14, 1973, it has now a rich collection of things that take us back to the individuals and episodes of the past and help us develop a sense of history.
The museum was temporally established on the first floor of Arts Faculty. Few days later it was shifted to Shilpakala Academy in the port city and again to the CU campus in 1988. And, it was installed on the third floor of the academic building.
It found its own place in the central library in 1992.
Prof Shamsul Hossain was its first assistant curator. History department donated 30 artefacts. Of them, 14 war arms, two pieces of stone inscriptions, two sculptures, one piece of a monumental and two brass plates are notable. Managing director of the then National Bank of Pakistan Momotaz Hasan donated most of these.
The museum has a huge and rare collection of archaeological articles, sculptures, coins, stone inscription and materials on culture. There are five galleries in the museum on archeology and pre-historic, sculpture, Islamic art, folk art and art.
In the archeology and pre-historic gallery, there are a huge number of pictures, fossils, clay idols and plaques of burnt clay of ancient times. In the sculpture gallery, there are touchstone idols, wooden idol, idols related to Hindu religion like Bishnu Murti, Shib Lingo, Suriya Murti and many other idols ranging from 8th century to 12th century.
Cannon of Mughal period, gold and silver coins of Mughal emperors, inscriptions on papyrus paper, hand written Quran, arms of medieval age, pictures of ancient mosques and their ruins, Islamic calligraphic picture, stone inscriptions and decorated stone with Terra Cotta are available in the Islamic art gallery.
In the folk art gallery, there are huge collections of household utensils made of brass, copper and aluminum of 17th to 18th century. Basket made of cane, lanterns Hukka (tobacco pipe), clay plaque, tribal ornaments, clay sculpture, clay puppet, palanquin, Pathi and Nakshi Kantha (embroidered quilt) of 17th to 18th century are also available in the gallery.
Paintings of Shilpacharya Zainul Abedin, Kamrul Hasan, Rashid Chowdhury, Zia Uddin Chowdhury and Nitun Kundu are available in Art Gallery. Syed Abdullah Khaleed's sculpture is also available in the art gallery. There has a part of mural picture titled 'Abahoman Bangla and Bangalee' in the art gallery. But due to want of visitors, art gallery remains closed.
Most of the university students don't have any idea about a museum in the central library and furthermore, it has no nameplate, Mamun-ar-Rashid, a student of Communication and Journalism Department said.
The students are being deprived of knowing the past glory despite a museum on the campus of rich collection of ancient times due to indifference of the university authorities, Mamun added.
Besides, the museum is not functioning properly for lack of human resources as it runs without curator. Two attendants work for five galleries.
The museum is now vulnerable as most of its windows are broken, said staff of the museum.
Assistant display manager Ziauddin Chowdhury said the poor budget and inadequate human resources are obstacle to running the museum.
Prof Dr Imran Hossain, director of the museum, said they need four more gallery attendants for the smooth running of the museum on an emergency basis.
Dr Imran said as part of the publicity they arrange meetings and seminars frequently. Nevertheless, if the students don't know about the museum, it is very much regrettable.
He said they will put up a nameplate soon to attract the students.