Salma shapes Khulna win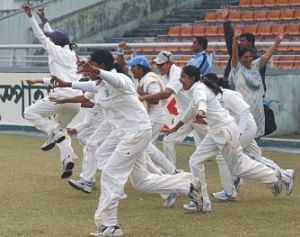 Salma Khatun claimed six wickets as Khulna defeated Rajshahi by five wickets in yesterday's opening match of the Meril Women's divisional cricket tournament.
In a low scoring limited-overs match at the Sher-e-Bangla National Stadium in Mirpur, Salma took 6-8 from 5.3 overs to help Khulna bowl out Rajshahi to 61 runs. Sathira was the only Khulna batswoman to reach double figures with 13 while 28 extras topped the scorecard.
Khulna recovered from early hiccups to reach 62 for five in 22.2 overs with Rumana and Rifat both scoring ten runs.
Earlier, Bangladesh Cricket Board (BCB) president Sina Ibne Jamali inaugurated the four-team event. Barisal and Sylhet are the two divisions not playing in the round robin league, which will end on December 30.
Meanwhile, the women's wing of BCB will organise a Women's Open cricket tournament (by invitation) from January 17 next year.
Teams willing to participate have been requested to send their entries by January 3, 2008.