A Call for Recognition
Reception for indigenous freedom fighters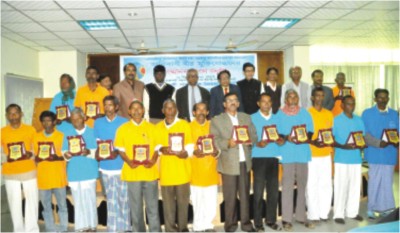 Adibashi Sangskritik Unnayan Shangstha (ASUS) accorded 15 indigenous freedom fighters a warm reception at a function held in Rajshahi in connection with Victory Day celebrations.
At the reception, the indigenous freedom fighters reiterated their longstanding demand for constitutional recognition of the indigenous people of the country in order to protect their language and culture.
Addressing the function, freedom fighter Uttam Kumar Sarder said he felt "ignored and inferior" before people around him in India, where he had fled at the beginning of the Liberation War in 1971.
Despite such humiliation, like many other indigenous people, he undertook training in guerrilla warfare and returned to the country to fight against the Pakistani occupation forces. He fought several battles on the war front and was once caught and tortured by local collaborators of the Pakistani forces.
"I too like many of my compatriot freedom fighters shed blood for our motherland. I can't understand why I still feel ignored and inferior. Why am I not recognised constitutionally?"
Shushil Soren said, at the age of 18, he joined the freedom fighters, leaving his wife and three-month old daughter behind, for the cause of the country.
"I underwent torture and returned from the edge of death. These incidents seldom come back in my memory. But I can never forget the day when Pakistani soldiers killed a pregnant woman and then tore her into pieces and severed her baby from her womb."
"If we have the same feelings for the country, we have also our right to be recognised in the constitution," he said.
Other freedom fighters who have been honoured are Bishwanath Hembrom, Abatar Mondol, Hemanta Kumar Murai, Shukh Chand Murari, Naresh Chandra Murari, Shrikanta Murarti, Biren Murari, Narayan Murari, Joy Chand Mondol, Bisto Chandra Hazra, Buddinath Orao, Dasu Murmu and Thakur Mardi.
All of them were from Godagari upazila and they were given a crest and T-shirts.
Rajshahi Divisional Commissioner Abdul Mannan attended the function as chief guest. Godagari Upazila chairman AKM Ataur Rahman, Muktijoddha Sangsad's Rajshahi district unit commander Saidur Rahman, Jatiya Adibashi Parishad president Anil Marandi, general secretary Rabindranath Soren attended as special guests.
Among others, local elite Foyezullah Chowdhury, Abdus Samad and Mustafijur Rahman Khan addressed those present at the reception.