SQ Chy remanded
After his arrest BNP calls 8-hr hartal in Ctg for Dec 19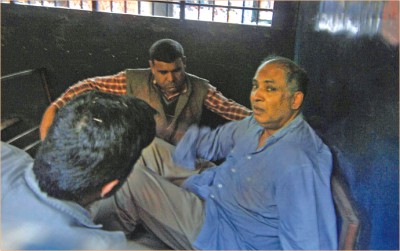 Law enforcers arrested outspoken BNP leader Salauddin Quader Chowdhury at Banani early yesterday in connection with torching of a car at Moghbazar that left one person dead.
He was later placed on a five-day remand.
Meanwhile, opposition BNP's Chittagong city unit called for a hartal from 6:00am to 2:00pm Sunday in the port city, Salauddin's hometown, protesting the arrest.
Detective Branch (DB) of police with the help of Rab and Gulshan police arrested the BNP standing committee member on charges of instigating and planning the arson as well as financing the attack, said DB officials.
The car was set ablaze on June 26, on the eve of the hartal called by the opposition. Car passenger Faruk Hossain was critically injured and he died at the burn unit of Dhaka Medical College Hospital on July 1.
Salauddin's arrest comes a day afterwar-crimes investigators sought permission from the International Crimes Tribunal to detain him in connection with crimes against humanity during the Liberation War. The court is supposed to hear on this application Sunday.
When Salauddin was produced before a Dhaka court yesterday, he told the court that members of Directorate General of Forces Intelligence (DGFI) and Rab tortured him at the DB office after his arrest. He said that was why his bloodstained string vest was taken off.
BNP Secretary General Khandaker Delwar Hossain at a press conference at BNP's Naya Paltan office also claimed that Salauddin was tortured after his arrest and he termed the arrest part of the government's blue print for one-party rule. He said Salauddin was arrested without a warrant.
His wife Farhad Quader Chowdhury told The Daily Star that her husband was tortured so much that police had to rush him to Bangabandhu Sheikh Mujib Medical University for treatment.
However, Deputy Commissioner of DB Md Monirul Islam, who led the arrest drive, ruled out the allegations of torture and said nothing illegal was done during the arrest.
"They took Salauddin Quader Chowdhury to BSMMU as he suffers from asthma. The doctors provided him with an inhaler that solved the problem," the DC of DB told The Daily Star.
Home Minister Sahara Khatun said Salauddin was arrested following due legal procedures.
However, LGRD and Cooperatives Minister Syed Ashraful Islam said the BNP leader was arrested in connection with his involvement in war crimes.
He called Salauddin "hateful war criminal".
Awami League Advisory Council member Suranjit Sengupta claimed that Salauddin was not arrested due to political enmity and with his arrest it has been proved that none is above the law. Suranjit said the BNP leader would have to face trial on war crimes charges.
According to sources, a team of DB in association with Rapid Action Battalion and Gulshan police arrested Salauddin at one of his relative's home in the capital around 2:00am.
After the arrest, he was taken to Cantonment Police Station and from there to BSMMU after he fell sick. He was taken to the DB police headquarters on Minto Road after an hour.
His wife Farhad Quader Chowdhury, two sons Fayyaz and Humam Quader Chowdhury and daughter Fardin Quader, lawyer Mahbub Uddin Khokon and BNP leader Rizvi Ahmed rushed to the DB office in the morning.
Salauddin was produced before the Court of Metropolitan Magistrate Mohammad Nazrul Islam at 2:50pm where the prosecution and the defence argued over his remand prayer.
Salauddin was permitted to sit down since he claimed he was unable to stand in the dock.
Metropolitan Public Prosecutor Abdullah Abu and District Public Prosecutor Khondaker Abdul Mannan prayed for placing Salauddin on remand as sought by the DB.
Defence lawyers Fakhrul Islam, Sanaullah Miah and Mohsin Miah submitted three petitions, one for bail along with the cancellation of the remand prayer, one for providing him with treatment and the other to take note of his injuries.
Supreme Court Bar President Khondaker Mahbub Hossain was not allowed to move the petitions on behalf of Salauddin since he was not dressed for court.
In the forwarding report, DB Inspector Fazlur Rahman, also the investigation officer (IO) of the case, mentioned that Salauddin was directly involved in torching of the car that killed Faruk.
The report also said over 35 criminal cases and general diaries filed against Salauddin are now pending with different courts across the country. He was arrested during the caretaker government's rule in 2007 on corruption charges, the report read.
Defence lawyers argued that their client's name was not in the first information report and that other accused in the case, including BNP leaders Mirza Abbas and Shamsher Mubin Chowdhury had been granted bails.
The magistrate rejected the bail and placed him on a five-day remand.
During the hearing, Bangladesh Chhatra League brought out a procession in front of the magistrate court with shoes and brooms in support of the arrest while some pro-BNP lawyers brought out a procession chanting slogans against his arrest.
Police and Rab personnel earlier arrested 14 leaders of BNP and Jamaat-e-Islam, including Motiur Rahman Nizami, Ali Ahsan Mohammad Mojahid, Mirza Abbas, Delwar Hossain Sayedee, Kamaruzzaman, Rafiqul Islam Khan and Shamsher Mubin Chowdhury.
The BNP leaders are now out on High Court bail while the Jamaat leaders are still behind bars.
Talking to The Daily Star, Inspector Fazlur Rahman, the IO of the case, said late last night that they already started quizzing Salauddin at the DB office.
Meanwhile, BNP leaders are scheduled to meet at 11:00 this morning to decide on a plan of action in the wake of Salauddin's arrest.