<i>Independent films and free expression</i>
In conversation with Zahidur Rahim Anjan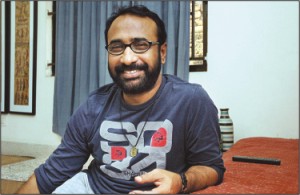 Filmmaker and activist Zahidur Rahim Anjan was speaking to The Daily Star at the office of Bangladesh Short Film Forum; he had just returned from a shoot at the Sompur Buddhist Bihar in Paharpur, working on a documentary on the legendary Bengali scholar Sri-Gyan Atish Dipankar (10th century).
"It is not a biographical film. At the age of 60, Dipankar travelled from India to Tibet through Nepal, across the Himalayas, to spread the word of knowledge, peace and tranquillity -- the film follows his footsteps. No journey can be made twice, neither can memory be recreated, but we wanted to tread the same path as Dipankar and capture the resonance of past. It is both a journey within and without. As Sufis believe, 'this is a journey not for the goal but for the journey itself,'" says Anjan on his documentary.
Anjan's involvement with the audio-visual medium is multifaceted. His passion is filmmaking but on professional level, he teaches different courses and conducts workshops on scriptwriting and filmmaking and is a faculty of Stamford University. On the organisational level, Anjan is involved with Bangladesh Short Film Forum. From 2004 to 2006, he served as the president of Bangladesh Short Film Forum, a platform for independent filmmakers. The Forum propagates cinema as a tool for free expression.
While talking to The Daily Star, Anjan goes over the background of the Forum, "After decades of commercial films that had lost touch with reality, emergence of a new wave of directors was necessary for the sake of the medium as well as a relief to the thinking audience."
"Throughout the world, be it Hollywood, Bollywood or Dhaliwood, films produced within the industries, share some common characteristics. Because of the dominance of commerce over art, these 'formula' films narrow the possibility of free expression and do little to satisfy the artistic needs of the people. They merely satisfy the entertainment needs that can be an important purpose of art but not an end," he adds.
Explaining the reason for the Forum's issues with the length and format of the films, he says, "We view time limit or format as an essential part of the industry and an obstacle for free expression."
As there is little scope available for screening and watching independent and experimental works worldwide, the Forum arranges International Short and Independent Film Festival every two years. Anjan was the director of the 2nd, 3rd and 4th festivals held in 1991, '93 and '96 respectively.
At present, Anjan occupies the post of the director of Film Centre created by the Forum. The Centre is a part of a large project that includes a library, an archive, a 50-seat auditorium, and provides a platform for debate and exploring of new ideas.
Anjan's much-loved directorial venture is his short diploma film Morning (1990), a fiction based on Anton Chekhov's story. The film has been screened at several international festivals. He has also directed a number of short films and documentaries. Apart from films, Anjan works for television and his raison d'être behind working for TV goes like this: "It is not an end for me, but a means for my professional existence. I always dream of making films."
Anjan believes that a new generation of directors like Giasuddin Selim, Nurul Alam Atique and Mostofa Sarwar Farooki have contributed to bring about changes in the audience's taste. "Some within the new crop of filmmakers not only started expressing themselves in new ways, they also began exploring new ground by taking up subjects that had barely been touched before," says the filmmaker.
Though Anjan has enjoyed much success with TV, he prefers working less for it. "For TV plays and tele-films one has to work with a given time frame and has no choice but to cast actors according to the market value; commercial breaks in between make it more intolerable. It becomes challenging to depict the complex human relationships," he comments on the limitations in working for TV.
Anjan has a post-graduate diploma in Film Direction from the Institute of Film and Television, Pune, India.