Child cardiac patients' woes at NICVD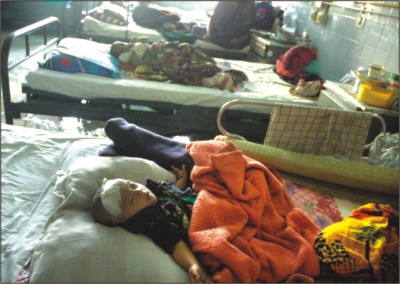 Ramzan, a nine-year-old admitted to the Paediatric Medicine Ward of National Institute of Cardiovascular Diseases (NICVD), gradually went into the jaws of death as his parents could not manage the money required for replacement of a valve of his heart.
When the parents had collected most of the required money appealing to the well-off section of the society, physicians said it was too late as the condition of the boy deteriorated and he became unfit for surgery.
There was nothing else to do for the parents except grieving over the loss of their son at a tender age and the fact that he had to leave for not getting the treatment he needed. Ramzan had been in the hospital for a few months.
Ramzan's is not a unique case. A large number of children from poor families are deprived of proper cardiac treatment, especially surgery.
Those who are able to pay for the surgery do not undergo surgery timely as the lone specialised cardiac centre in the capital, with only 250 beds, does not have a separate paediatric surgery unit.
"It takes a long time to get the turn for surgery which forces parents to go to expensive private clinics. As there is no separate OT [operating theatre], it sometime takes three months for surgeries for Arterial Septal Defects and Ventricular Septal Defects," doctors said.
If there were separate department for paediatric surgery and an OT, the number of surgeries would increase, experts said adding that 90 percent of the paediatric cardiac patients need to have surgeries. That is why it is important to have a paediatric surgery department like those in the developed countries.
"There are no professors or associate professors specialised in paediatric cardiac surgery despite the posts being there in the hospital. It is not possible to run a separate unit with an assistant professor. The professors and associate professors of geriatric surgery engaged themselves in paediatric cardiac surgery even though paediatric and geriatric cardiac surgery are quite different," experts said.
"Surgical equipment, screening, surgery, anaesthetic management, ICU [intensive care unit], post operative management are totally different for paediatric surgery," said Prof Shajal Banarjee of Bangabandhu Sheikh Mujib Medical University [BSMMU]. He said anatomy, physiology and the volume of their body fluid is different from those of adults.
Though a separate department for paediatric surgery is a crying need, lack of manpower hinders the process. At the same time, unwillingness of the geriatric surgeons is also one of the main obstacles to initiate a department for paediatric surgery, sources said.
"Giving excuses that the operation may not be successful, surgery of many paediatric cardiac patients is not performed leaving the patients in vulnerable state," they said.
In developed countries heart screening allows doctors to diagnose a child's heart condition and take steps required almost instantly. Most cardiac patients under 12 suffer from congenital disorder and if they are operated on before the age of five they get better very well, experts say.
There are only four to five paediatric surgeons in the country for around eight crore children aged under 18. The upazila health complexes do not have any facility for paediatric cardiac surgery.
Patients from all corners of the country throng the NICVD to get treatment which overwhelms the hospital and often they are forced to send patients back as the hospital cannot cope with the pressure.
"Every day around 30 patients with paediatric cardiac problems come to the outdoor department of the hospital. Half of them cannot get admission to the hospital," hospital sources said adding that the paediatric medicine department started in 2003.
The delays in cardiac surgery sometimes result in mental and physical disability of children. They often suffer from pneumonia and other cold related diseases continuously.
Paediatric Cardiology care is virtually non-existent outside Dhaka city and it takes a long time to diagnose their cardiac problems. They are often given antibiotics for pneumonia repeatedly, deteriorating the problem.
Although the number of paediatric cardiac patients is increasing in the country, facilities have not increased much and there is no national database in this regard. The number of patients with congenital heart disease is around 7-10 percent and most of them need surgery.
"Heart diseases have gone down in the country due to increased awareness but around 8-10 per thousand have congenital heart diseases," Dr NN Fatema, paediatric interventional cardiologist, told The Daily Star.
"Of the congenital cardiac patients, cardiac surgery is a must for 30 percent and the rest can be cured through medicine or interventional therapy," she said adding that it is very unfortunate that 25 percent paediatric cardiac patients cannot have surgery due to lack of manpower.
"A large number of people should be trained in this discipline and a specialised paediatric cardiac hospital is important in this regard. At the same time, child specialists should be provided with training on paediatric cardiology so that they diagnose and refer the patients to experts," she suggested.