Mahasthangarh
Heritage site unprotected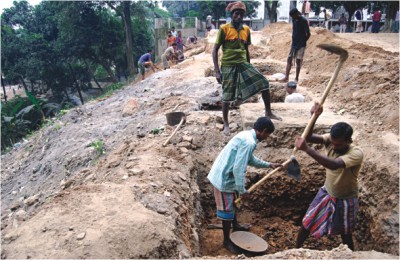 The Mahasthan Mazar Unnayan Committee and Bogra district administration ignored till yesterday all written requests from the authorities concerned not to destroy Mahasthangarh Archaeological Site.
Construction work at the site, however, was stopped yesterday afternoon on a High Court order but construction materials were not removed.
The cultural affairs ministry yesterday formed a four-member committee to probe the matter, said Director of the Department of Archaeology Abdul Khaleque.
A joint secretary of the ministry heads the committee, and a director of the archaeology department and two teachers of Jahangirnagar University are its members.
Till yesterday morning, Deputy Commissioner of Bogra Iftekhar Ul Islam ignored an order from the secretary of the cultural affairs ministry to take legal action to stop construction work at the archaeological site.
The secretary, Suraiya Begum, told this correspondent, "I talked to the DC over the telephone and asked him to stop the construction work. But he did not."
Earlier on Monday, President of the Mazar Unnayan Committee and Bogra District Awami League President Momtaz Uddin told journalists that he was doing construction work with permission from the DC.
"The committee will spend Tk 2 crore for the development project, and it has has already allocated Tk 55 lakh for the work," said Momtaz Uddin.
Asked about this, the DC denied his claim.
"Under the current land acquisition law of the country, it is not possible to acquire any land belonging to mosques and mazars," said the DC.
Since the mazar lies in the archaeological site, and the mazar land was not acquired, they can build new structures there, Iftekhar explained.
He, however, said he sent a letter to the cultural ministry seeking its directives in this regard. "We will do what the government wants us to do."
Upizila Nirbahi Officer of Shibganj Md Lutfar Rahman, who is secretary of the mazar committee, told this correspondent that he is not aware of any development project at Mahasthangarh.
Archaeology department sources said a letter was sent to the mazar committee and the UNO of Shibganj on November 27 asking them to stop any construction work at Mahasthangarh.
Another letter from the department was sent to the DC on December 2 asking him to take steps to stop construction work. But nothing was done.
On November 27, the mazar unnayan committee started constructing a multi-storey building on the mazar premises violating the Antiquity Act of 1968.
The Environment Development Citizens Committee of Bogra formed a human chain in the district town recently demanding steps to stop felling of trees and construction work by the mazar committee.
Archaeology department officials said thousands of ancient bricks and artefacts including terracotta were damaged by construction workers.
The archaeological site was declared a protected area on 22 November 1920.