Thakurgaon was freed on this day in 1971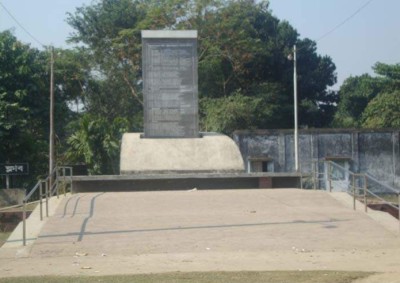 On this day in 1971, Thakurgaon was liberated from the Pakistani occupation forces.
People of the district heaved a sigh of relief while enjoyed the taste of freedom after months of fighting. The area was totally freed from occupation forces on December 3.
A heavy gun battle took place at night on December 1, 1971 between freedom fighters and Pakistani forces.
Failing to resist freedom fighters and allied forces the occupation forces started to leave the town from December 2 morning. They completed withdrawal by the same night and took shelter at Sayedpur Cantonment.
Next morning on December 3, 1971 freedom fighters entered the town. People from all walks of life came out on the streets in the town chanting slogan 'Joy Bangla' with freedom fighters.
Rickshawpuller Mohammad Ali was the first martyr of the Liberation War in Thakurgaon. He was shot dead by army on March 27.
During the war period a large number of innocent people were killed by the Pakistani forces and their collaborators.
In Jathibhanga village under Sadar upazila in Thakurgaon about 3500 innocent people including women and children of different villages who were fleeing to India for safety were killed and buried by the Pakistani forces and their local collaborators.
Skulls and bones of about 8,500 people were recovered from Khuniadighi under Ranishankoil upazila of the district after Liberation War. They were killed during Liberation War and thrown into a big pond.
Freedom fighters and allied forces intensified attacks on the Pakistani forces from the beginning of November in the area.
The freedom fighters took control of Amarkhana on November 20, Jagdalhat on November 25,. Shingpara village on November 26, Talma village on November 27, Panchagarh CO Office, Atwary, Mirzapur on November 28 and finally entire Panchagarh was liberated on November 29, 1971.
Pakistani occupation army and their collaborators fled from the areas and soldiers took shelter at Thakurgaon EPR camp after leaving Panchagarh.
To mark the day, Thakurgaon Nagorik Committee, Freedom Fighters' Association and many other organisations have taken different programmes including placing wreaths on the martyrs' monument and Mohammad Ali's grave in the town.