PM seeks more investment from Belgium
Also urges manpower recruitment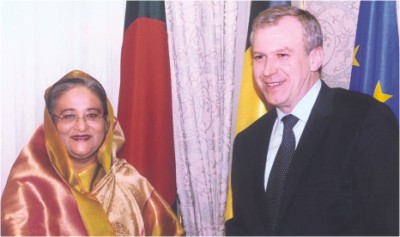 Prime Minister Sheikh Hasina has requested the Belgian government to recruit skilled sailors, and skilled manpower for IT and other related sectors from Bangladesh.
"I believe there is good scope for Belgium to invest in Bangladesh's shipbuilding industry, IT, energy and infrastructure sectors," Hasina said while holding talks with Belgian Prime Minister Yves Leterme at his residence Thursday evening.
Briefing newsmen after the meeting, PM's Press Secretary Abul Kalam Azad said Hasina also requested the Belgian government to import frozen fish, RMG products, bicycles, spare parts, pharmaceuticals, jute products, ceramics, and leather products in larger volume.
"I believe there is a lot of scope to expand trade between Bangladesh and Belgium," she said.
Hasina also urged the Belgian government to increase European Union's support for implementing Bangladesh's 134 climate change action plans.
She sought Belgium's support for preparing green projects and making available green technology for a green economy.
"The prime minister also called for Belgian investment in various sectors including electricity," Azad said.
During the meeting, Hasina was highly appreciated for her leading role in tackling climate change impacts in the country as well as across the globe.
"The Belgian prime minister gave special thanks to our prime minister for her strong initiatives to root out terrorism and establish peace," he said.
As the prime minister thanked the European Union for its support to hold the December 29, 2008 election in a free and fair manner, the Belgian PM described Awami League's landslide victory as a rare one.
"We have taken this victory as a sacred responsibility towards people," Hasina was quoted as saying by the press secretary Azad.
The Belgian prime minister also hailed Bangladesh's economic progress even amidst the recent global economic downturn.
In this regard, Hasina informed the Belgian prime minister that her government is working relentlessly to attain universal food security for the people.
When Leterme congratulated Hasina on receiving the MDG-4 award, the PM said Bangladesh needs international cooperation to successfully tackle the climate risks.
"We are confident to attain the MDG targets by 2015, but climate change impacts are making the targets very difficult," Hasina said.
She said her government is trying its best to protect people from natural calamities, but more international assistances are needed to fully tackle the climate risks.
Bangladesh's vision 2021, capital and maintenance dredging in rivers, prospects of importing ships from Bangladesh, among other issues, featured in the meeting.
Hasina congratulated her Belgian counterpart for the success of the eighth Asia-Europe Meeting held in Brussels on October 4-5, 2010.
She told the Belgian PM that Bangladesh has applied for membership of ASEM (The AsiaEurope Meeting). "We need your support in our bid," she said.
Welcoming Belgium's allocation of 40 million euro as 'First Start Instance' out of which 20 million euro will be distributed among the LDCs by Belgium Invest Company, Hasina sought Bangladesh's inclusion in the programme.
She thanked the Damien Foundation of Belgium for assisting Bangladesh in leprosy and TB control programmes and the Belgian government for granting scholarships to Bangladeshis for study in Belgium.
Foreign Minister Dipu Moni, State Minister for Forests and Environment Hasan Mahmud, ambassador at-large M Ziauddin, PM's Principal Secretary MA Karim and Bangladesh Ambassador to EU Ismat Jahan were, among others, present.
PM LEAVES FOR JAPAN TODAY
Prime Minister Sheikh Hasina will fly for Tokyo from here today to begin a four-day official working visit to Japan.
She is scheduled to leave Brussels at 11:20 am (local time).