Flood inflicts Tk 10cr loss on Tangail fishery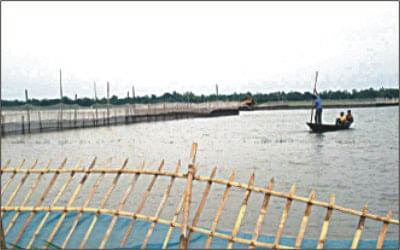 Fish farmers in Tangail are facing a possible financial doom as the recent flood inflicted a massive damage on their ponds and fishes in 12 upazilas of the district.
Thousands of ponds in the district were inundated during the flood which washed away cultivated fishes of different species, fry, and fish eggs worth crores of taka.
Most of the affected farmers cultivated fishes in ponds with loans taken from banks and NGOs, sources said.
Fish farmer Abu Taleb of Kakua under Sadar upazila told The Daily Star that he cultivated fishes of carp varieties in his pond with a loan of Tk 1 lakh from different local NGOs, only to see his product get washed away by the flood. "Now I don't know how I will repay the loan," he said.
Fish farmer Arfan Dewan of Bahimhati village under Mirzapur upazila said his cultivated fishes worth about several lakhs of taka were washed away. "I could not save my fishes despite taking advance preparations," he said.
The District Fisheries Department of Tangail estimated the total damage inflicted on the fish farming industry of the district by the flood at Tk 9.84 crore.
According to the fisheries department statistics, the flood damaged 8,029 water bodies occupying 920 hectares of land space in 12 upazilas.
The most affected upazila is the district headquarters with 1,378 water bodies damaged occupying 95.77 hectares of land, in Gopalpur 815 ponds were damaged on 65.40 hectares of land, in Bhuapur 1,111 on 150.69 hectares, in Mirzapur 212 on 34.43 hectares, in Nagarpur 508 on 78.68 hectares, in Delduar 559 on 52.74 hectares, in Sakhipur 139 on 24.37 hectares, in Basail 510 on 82.35 hectares, in Ghatail 542 on 45.96 hectares, in Dhanbari 1,000 on 55.86 hectares, in Kalihati 1,253 on 231.96 hectares, and in Madhupur upazila two water bodies on 4.45 hectares of land.
The damage to the fish cultivating water bodies in Sadar upazila is estimated at Tk 1.42 crore, the statistics said.
Besides, structural damage inflicted on the water bodies by the flood in every upazila of the district is estimated at Tk 2.11 crore, while damage to the fish resources is estimated at Tk 7.73 crore.
Mohammad Ashraf Uddin, fish survey officer in Tangail, told The Daily Star that they are making a list of affected fish farmers in the district as part of their plan to compensate them.
"The fish farmers will get only technical support if the government does not provide financial help," he added.