Concert featuring top three of "Indian Idol 5"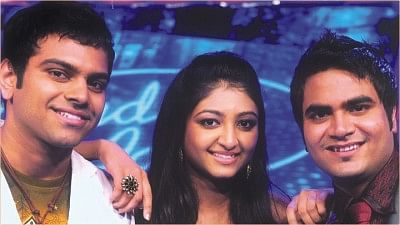 Almost two hours after the scheduled time the concert featuring Indian Idols kicked off and MC Azra welcomed the audience inside the Hall of Fame, Bangabandhu International Conference Centre on November 1. Performing artistes were the top three contestants of "Indian Idol 5".
Prior to the concert, Hindi golden oldies were playing in the venue while a number of models wearing bridal attire and traditional veils walked the ramp. Marzan Hadi designed Ahong's clothes displayed by the models. Diamond World provided jewellery while La Velle did the make-up.
At long last Rakesh Maini, the second runner-up of "Indian Idol 5", took the stage and performed "Chand Sifarish" -- originally recorded by Shaan -- from the film "Fanaa". Other numbers rendered by him were "Jab Se Tera Naina" and "Taktey Rehtey Tujhko". Rakesh also performed "Chirodin-i Tumi Je Amar" at the concert.
Bhoomi Trivedi started with some self-composed lines: "Cholechhi Eka Kon Ojanaye." "Maiya Maiya", "Aazma Luck" from the films "Guru", and "Luck" and an Asha Bhosle number "One Two Cha Cha Cha" followed. She also rendered several old classics including "Kajra Muhabbatwala" and "Saiyan Dilme Aana Re".
The audience was eagerly awaiting Indian Idol Sreeram Chandra's performance. Apart form performing Idol songs, Sreeram, with his high-pitched voice, performed the theme song of the film "Three Idiots," "Dekha Na Hairey." A qawwali "Khwaja Mere Khwaja" and "Aaja Aaja Merey" followed.
Mirror Media and Production Ltd, a Bangladesh-India joint venture, organised the event.
ETV was the media partner of the concert.