Yunus floats social business for agriculture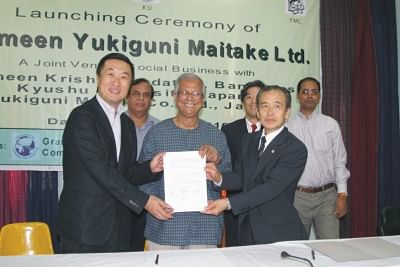 Grameen Krishi (agriculture) Foundation (GKF) has tied up with a leading Japanese agro-company, Yukiguni Maitake Company (YMC) Ltd, to produce mung beans in Bangladesh.
Both the sides entered into a joint venture agreement yesterday.
Prof Muhammad Yunus, chairman of GKF, the agriculture arm of Grameen Bank, and Yoshinobu Odaira, president of YMC, signed the deal at Grameen Krishi Foundation building in Dhaka.
The joint-venture social business will work actively to create capacity to expand bean production in Bangladesh for local consumption and open up the export market for agricultural produce.
Under the deal, the Japanese company will purchase mung beans (moog dal) produced by the local farmers who are affiliated with GFK.
Production is expected to begin in February next year.
About 60-70 percent production will be exported to Japan through YMC, while the rest will be sold in the local market.
Grameen Krishi Foundation is a non-profit company that works with farmers to facilitate agricultural production.
Yukiguni Maitake is renowned for its quality production of Maitake mushrooms and known for its strategic focus on innovation in production, quality control and distribution.
The Japan-based company is mainly engaged in the manufacture and sale of mushrooms, water-boiled foods, dried processed foods and processed aquatic foods. It has 12 subsidiaries and two associated companies.
The company, which produces nearly 50,000 tonnes of bean sprout and mushroom a year, will provide technology and training to help produce export quality beans.
The objective of the joint venture is to enhance the farmers' income, particularly of the village women who will be engaged in the processing of mung beans. The company will also offer healthcare services and scholarships to the farmers' children, and bring new technologies to the farmers, officials said.
On the occasion, Dr Yunus said the partnership would lead to the production of other agricultural produce in future.
He said Yukiguni Maitake is Grameen's first social business partner in Japan, the world's third largest economy and the global leader in the area of agriculture.
"By producing safe and delicious mung beans in Bangladesh, we will create employment opportunities for the poor farmers," said Yoshinobu Odaira.
Prof Hiroto Yasuura, vice president of Kyushu University in Japan, said they would extend assistance to Bangladesh in creating more social business ventures with Japanese companies in future.