<i>Tales of the Biranganas</i>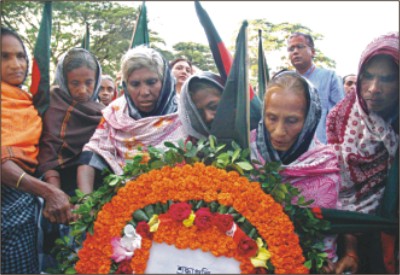 "I was so frightened seeing the eyes of a Pakistan army personnel that were staring at me. He snatched my son from my lap and threw him away... My mother begged for mercy grabbing his legs, but he did not care," said Birangana Hasna Banu of Sirajganj.
"At the beginning of the war, we hid ourselves in our village but the heinous Razakars took the army to our village and let them violate us," she said while telling her experience of the Liberation War.
She said she was violated by the Pakistan army and their native collaborators.
Sammilito Sangskritik Jote yesterday launched a four-day victory festival to mark the Victory Day, December 16, at the Central Shaheed Minar. Hasna Banu and seven other Biranganas (valiant women freedom fighters) from different parts of Sirajganj inaugurated the festivities.
They are: Hasna Banu, Ayesha Begum, Rahima Begum, Asia Begum, Noor Jahan Begum, Rahela Begum, Surya Begum and Bahatun Begum.
Several renowned personalities accompanied them. They also paid tribute to the martyrs of Liberation War placing floral wreaths at the Shaheed Minar.
Following the inauguration, war veteran Hasna Banu in her speech in Sirajganj dialect, said, "After the independence we returned to the village, but village leaders did not accept the Biranganas and their families. The country became independent but Razakars and Al-Badrs, who killed freedom fighters and violated us, still remained powerful."
Later Bangabandhu Sheikh Mujibur Rahman kept the Biranganas and their families in a rehabilitation centre.
"But only after three years, they killed the Bangabandhu and we lost our last hope. As long as Bangabandhu was there, we did not have any sufferings," she said.
"Even after so many years of freedom, we did not receive justice. If Bangabandhu was here, Razakars would have been punished," said Hasna Banu as she was losing her voice.
"In the twilight of my life, there is nothing I want except the trial of Razakars and Al-Badrs," she said.
Sammilito Sangskritik Jote launched the victory festival across the country simultaneously. The inaugural session began with the National Anthem and a minute's silence to pay respect to the martyrs of the Liberation War.
Prof Anisuzzaman, Ramendu Majumdar, Asaduzzaman Noor, Mofidul Haque, Nasiruddin Yusuf Bachchu, Golam Quddus, Salauddin Badal, Mannan Hira, Afroza Banu, Sabina Lohani, Jyotsna Biswas and other cultural personalities were also present.
The speakers demanded immediate trial of the war criminals by forming a special tribunal. They vowed to continue their movement until the trial of all Razakars, Al-Badrs and other war criminals were held.
Prof Anisuzzaman said in an independent country, its anti-liberation forces recently said the Liberation War was a civil war; freedom fighters went to war out of lust for women and wealth and there are no war criminals in the country.
"They dared to make comments like this because we could not take measures against them all these years," he said.
He said, "There is a surge of public opinion for the trial of war criminals. We urge the government to let the war criminals be tried in a special tribunal. Let there be a commission formed to collect information about their misdeeds during the Liberation War."
Members of cultural organisations--Rhirshijo, Kranti, Padatik and Bonhishikha--sang patriotic songs while Shwattik Natya Samproday and Kotha Abritti Kendra staged a play and recited poems.