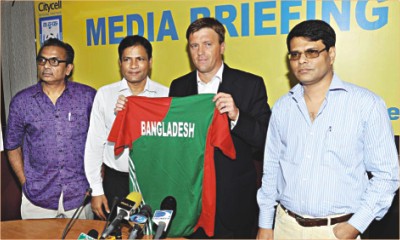 Newly appointed head coach of Bangladesh national football team Robert Rubcic announced his intention to take Bangladesh thirty places higher in the FIFA rankings within the next year.
The 47-year Croat, who arrived in the capital last morning after travelling 24 hours from Zagreb, stated his aim at a crowded press conference at the BFF House yesterday. The soft-spoken Croat was visibly tired but said that he felt exceptionally honoured to be appointed chief coach of a national side for the first time.
"Bangladesh is ranked 152nd in the FIFA rankings and I would like to see them thirty places higher at the end of my term," said Rubcic who is set to lead Bangladesh in the Asian Games, AFC Challenge Cup, Olympic Qualifiers and the FIFA World Cup pre-qualifiers during his one-year stint.
Rubcic, who has spent most of his career in club coaching, admitted it was a challenge coaching a national side. But the former Croatia international is confident he can take Bangladesh forward, but admitted he needs time to make a difference.
"It's not going to be an easy job because the weather and atmosphere is far different from where I come from. But I've been in this line all my life. I've had very good communication with players wherever I have coached. I will try to make these players' condition superb," said Rubcic.
When it comes to style of play, the former assistant coach of Croatia looks likely to be defensive minded, and marked out Real Madrid manager Jose Mourinho as his favourite and the best in the business.
"Mourinho is a serious coach, He prepares for a match for ten days. He thinks about the game for twenty-four hours. He is the best coach in the world."
Rubcic's liking of Mourinho is reflected in his philosophy of building a strong defensive block as he promises to present good football with a balanced formation of 4-2-3-1.
"I prefer fast and speedy football, running for the ninety minutes. I emphasise on the technical aspects," Rubcic said. "I like open play too if the opposition are not that strong. When the opposition is superior, you have to switch tactically to a defensive mode."
The former assistant coach of Croatia was also a member of the World Star XI that played a benefit match for Gabriel Batistuta alongside greats such as Claudio Tafarel, Joao Pinto and Hugo Sanchez in Florence in 1995.
The left-back, Rubcic, also played an international match for Croatia against Romania after representing Yugoslavia at the Under-16 and Under-18 levels.
After meeting the press, the coach travelled to the Bangladesh Krira Shikha Protisthan (BKSP) where he was introduced to the national team's players. He also received a first hand introduction to his charges as they divided into two teams and played a practice match.
Rubcic is scheduled to sit with the local coaching staff today to discuss about the players and is supposed to take charge of the national side after the four-day Eid vacation that began yesterday and will end on September 13.