Develop coordinated policy to tackle natural disasters
AL leaders tell roundtable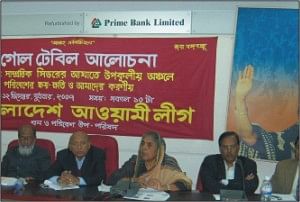 Awami League (AL) yesterday called on the government to develop a coordinated policy in consultation with all stakeholders and the political parties to tackle natural disasters.
It also stressed the need to raise awareness among the people about cyclone and adopt strategies for cyclone preparedness and disaster risk reduction.
The AL made the suggestions at a roundtable organised by its sub-committee for forest and environment at the National Press Club.
The speakers also called for building stronger coastal and river embankments and planting more trees in order to minimise loss of lives.
Prof AQM Mahbub, chairman of geography and environment department of Dhaka University, presented a keynote paper titled 'Super Cyclone Sidr 2007 : Environmental stresses and measurers to be taken'.
He suggested introducing disaster education, launching disaster awareness programme and taking environment-friendly approach to development planning.
AL presidium member Tofail Ahmed called on the government to make a list of Sidr victims and build houses for them.
Fishermen should be given boats and nets, farmers be given seeds, fertiliser, cattle and interests-free loans, and small traders be given loans for their rehabilitate, he added.
Another presidium member Motia Chowdhury suggested cultivating alternative rice in the coastal areas to ease food crisis and building strong embankment to protect croplands.
Jatiya Party Presidium member Ziauddin Ahmed Bablu, Prof Hossain Mansur, Abdul Mannan, Dr Abdur Razzak, Dr Dipu Moni, Habibur Rahman Siraj, Prof Abu Sayeed, Ashiqur Rahman, Dr Abdul Mannan, Md Qudrutullah Jahangir, Prof Khaleda Khanam, Md Ruhul Amin, Dr Ansarul Karim and Abu Naser Khan also spoke.
Sub-committee chairman MA Mannan presided over the roundtable moderated by the party's forest and environment affairs secretary Dr Hasan Mahmud.
Meanwhile, AL Acting President Zillur Rahman yesterday demanded release of detained party president Sheikh Hasina before the Victory Day.
If the AL chief is released, she could contribute to relief operations and rehabilitation of Sidr victims, he said while inaugurating an education-oriented programme organised by Bangladesh Chhatra League at the AL president's political office at Dhanmondi.
Zillur also said the AL has been conducting relief operation as per the directives from Hasina and would continue its efforts until the Sidr victims are rehabilitated.
He also demanded immediate release of detained BCL General Secretary Mahfuzul Haider Chowdhury Roton.
AL leaders Motia Chowdhury, Syed Ashraful Islam, Abdul Mannan, BCL President Mahmud Hasan Ripon also spoke.