Faulty launches getting facelift
Passengers await risky journey ahead of Eid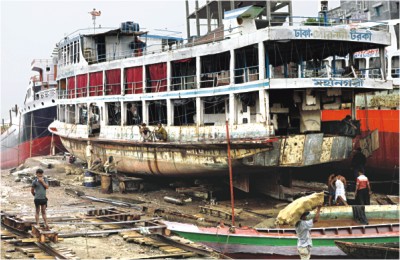 More than a hundred faulty and unfit launches are getting quick repair in Keraniganj dockyards to carry passengers on different routes ahead of Eid-ul-Fitr.
Most vessels have major defects in engines or design faults, said repairers in dockyards. They could not tell whether the launches have any fitness certificates.
The workers were busy refurbishing and making minor repairs on the vessels as the owners want the job completed before the Eid, the prime time for transport business.
"We are not authorised to check fitness of vessels. From our working experience, we can tell whether a vessel is fit or not. A number of unfit vessels are brought here for repair," said Zulfikar Ali, general manager of Comilla Ship Builders.
Director General of Department of Shipping Bazlur Rahman said he heard that a few launches were getting repaired in different dockyards ahead of the Eid.
"We will take stern action if any unfit launch plies during the Eid," he said.
Bazlur said only three surveyors and four inspectors are there to verify fitness of over 11,308 registered vessels.
A source at the Department of Shipping said more than 23,000 unregistered vessels ply different routes across the country.
Safe Waterway Implementation Movement, a non-governmental organisation, in a survey in January said 2,082 of the 5,000 launches it covered were unregistered.
More than four million people are expected to leave the capital for the southern part by launches ahead of the Eid.
Vessel owners operate more trips during the Eid as the number of passengers shoots up during the period, said Sadarghat Port Officer Sharif Afzal.
He denied plying of unfit launches on any route.
"We decided that not a single vessel would be allowed to ply without fitness certificate."
Several hundred workers at different dockyards were seen busy repairing vessels.
"We have to work day and night before the Eid as the vessel owners are putting pressure on us to get the work finished as soon as possible," said a worker at Hossain Dockyard.
Mohammad Hossain, proprietor of the dockyard, said vessel owners don't want to miss even a single trip during the festival. They want to make sure that their vessels look fit and beautiful.
A study of Safe Waterway Implementation Movement says lack of monitoring and faulty design of vessels led to 535 major accidents that claimed more than 6,000 lives in the last 25 years.
Shipping Minister Shahjahan Khan said, "We have taken all necessary measures to ensure safety of passengers and make their journeys hassle-free. Special monitoring teams will be vigilant to check plying of unfit and overloaded vessels."