Legitimising Military Rule
Ershad's desperate bids go in vain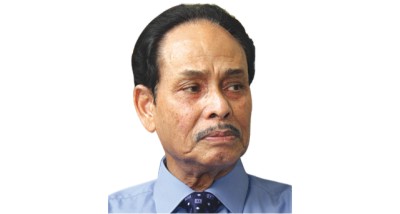 Ershad's strategy to secure the armed forces' absolute allegiance to his regime, through a mixed policy of concessions, rewards, punishments and tightening of military intelligence, worked like a charm.
The military never gave HM Ershad headaches like it did to his predecessor late Gen Ziaur Rahman. He masterfully used the forces as his prime support since taking over state power on March 24, 1982, overthrowing the then president Justice Abdus Sattar.
But the general people were not so quiet and cooperative. Agitations initially launched by student organisations and later by opposition political parties were gradually getting too hot to handle for the regime.
The changing political scene made him feel the need to legitimise his rule and create a political party that would lend all-out support to his unconstitutional rule.
In his quest for legitimacy, Ershad held a farcical referendum on March 21, 1985, at a cost of over Tk 800 million seeking people's mandate to rule Bangladesh. A referendum was quite an unfamiliar territory for the people before Ershad's predecessor Zia had used it.
Before the referendum, his regime held union parishad elections in 1983 and increased allocations to the local government body in its efforts to get support from the grassroots.
The controversial referendum failed to provide Ershad with the cloak of a legitimate ruler. There were allegations of large-scale vote rigging.
The regime claimed a voter turnout of 72 percent and Ershad obtained 94.14 percent "yes" votes in favour of his rule as the country's president, the position he grabbed in December 1983.
"But many local and foreign observers found the figure inflated and claimed that the turnout was not more than 15 to 20 percent," said a monograph titled "The Changing Forms of Government in Bangladesh: The Transition to Parliamentary System in 1991, in Perspective".
The monograph published in 2000, by Bangladesh Institute of Parliamentary Studies (BIPS) which is a parliamentary research organisation, also observed that supporters of the military regime viewed the referendum as an important milestone in Ershad's bid to legitimise his rule. The opposition parties said it was nothing more than a futile exercise, the study stated.
Failing to legitimise his rule through the extra-constitutional mechanism of referendum, Ershad decided to earn at least a veneer of legitimacy through a presidential election.
He endeavoured to hold a presidential election and become the president under Article-48 of the constitution, which he had suspended immediately after seizing state power.
But Ershad could not go ahead with his plan in the face of vigorous opposition of the Awami League-led eight-party alliance, BNP-backed seven-party alliance and the left-leaning five-party alliance.
He had to drop his plan for presidential election and conceded to his oppositions' demand for holding parliamentary elections on May 7, 1986.
Protest against Ershad's military rule went on with renewed vigour once the restrictions on outdoor politics were lifted on the first day of 1986, after four months short of three years when indoor politics was allowed.
However, around three years before the third parliamentary elections in 1986, Ershad wanted to float a political party and his men had started working to this end.
With his direct blessing a new political party, Janadal (People's Party), was launched in November, 1983. The Awami League (Mizan faction) and a faction of BNP led by Shamsul Huda Chowdhury emerged as nucleus of this party.
Later, Jatiya League, Democratic League (led by Shah Moazzem), NAP (led by Naser Bhasani) and a small group from Awami League (of Sheikh Hasina) led by Kurban Ali joined Janadal. The Janadal was renamed Jatiya Party in 1986.
"He [Ershad] was probably encouraged by Zia's remarkable success in a similar endeavour a few years before…by inducting stalwarts of the newborn Janadal into the cabinet, Ershad invited other politicians to defect to the government's party," political scientist Prof Muhammad A Hakim observed in his book "Bangladesh Politics: The Shahabuddin Interregnum".
The BIPS study observed that there was a post-1975 trend in Bangladesh politics which was to turn as many opposition leaders as possible into supporters of the rulers through persuasion, intimidation, concession and distribution of patronage.
To consolidate his power, Ershad introduced and effectively used the upazila parishad system. The system was introduced in 1982 but polls to the upazila parishads were held in May 1985 in which the government-backed Janadal candidates won 45 percent of the chairs in upazilas.
In the absence of a parliament, the upazila chairmen, being public representatives, enjoyed most of the power, prestige and status of lawmakers. The chairmen played active role in resisting opposition movements against the Ershad regime and started working for Janadal/Jatiya Party.
Before formally announcing the third parliamentary election date, Ershad met upazila chairmen on several occasions at divisional headquarters as well as in Dhaka and discussed opposition movements and the national polls.
Ershad also took some of the leaders of the Upazila Chairman Parishad on his international tours from time to time and they were always found beside the president in most of his public appearances.
"If one looks at the political process of Bangladesh from 1982 onwards, the clear political role of the upazila system in consolidating the power base of military regime is not hard to mark. This was the only major programme the military rulers persistently and carefully handled from 1982 to 1985 and finally attained success," said a study published by Bangladesh Academy for Rural Development (BARD), an autonomous body.
The study titled "Decentralisation and People's Participation in Bangladesh: A Political Perspective", said the upazila parishad chairmen cooperated fully with the government in organising the third parliamentary elections.
Finally, the third parliamentary election was held on May 7, 1986 smeared with violence and in total lawlessness that left at least 15 people dead.
"The government-backed Jatiya Party's musclemen captured many polling stations in different constituencies and massively terrorised the voters. There was no serious initiative on the part of the civil bureaucracy or police administration to resist the Jatiya Party hired thugs," said Prof Hakim of political science of Chittagong University.
The election, as anticipated, was won by Jatiya Party with a simple majority of 153 seats despite active support from the Ershad-led military government. Awami League won 76 seats, Jamaat-e-Islami 10, independent candidates 32 and other parties won the rest of the 300 seats.
The Awami League accused the Jatiya Party of rigging the elections, an apprehension that made BNP boycott the polls.
Declaration of unofficial results through state-owned BTV and radio was also marked by irregularities, which was later dubbed a "media coup".
The BTV and radio were supposed to telecast and broadcast live announcement of unofficial election results provided by the Election Commission for 36 hours. But just after 29 hours, they suddenly stopped announcing the results.
When they were not broadcasting and telecasting, Jatiya Party won 78 seats while the Awami League bagged 54 seats. Such an incident never happened before or after the third parliamentary elections.
A British team of observers consisting a former Labour minister, a Conservative lawmaker and a BBC journalist termed the elections a "tragedy for democracy" and a "cynically frustrated exercise", according to the BIPS study.
Soon after the parliamentary elections, Ershad again decided to hold the presidential election to become a "legal" president under the constitution.
He resigned from his post as chief of army staff and formally joined the Jatiya Party in August, 1986, putting aside the promise he had made when he took over that he would never enter the political arena.
As part of his continued effort to legitimise his rule, presidential election was held on October 15, 1986. Ershad contested the polls as the Jatiya Party candidate. Knowing how elections go under the military regime, all major opposition parties boycotted the presidential election.
Ershad was elected with ease.
Even though the third parliamentary election was dubbed a "tragedy for democracy", it served Ershad's purpose. He had a parliament that would ratify a bill, which he then thought would legalise the military regime, permit the withdrawal of martial law and make him a constitutional ruler.
He summoned the second session of the third parliament. The one-day session on November 10, 1986 was only for passing the constitution's seventh amendment bill to indemnify Ershad's taking over of state power and all of his regime's actions.
But initially, Jatiya Party did not have 220 votes needed in parliament to pass the bill. Later they garnered 30 women's reserved seats. Soon a larger number of independents joined the bandwagon and legislators from smaller parties joined the party allegedly in exchange for various benefits.
This way the government managed to get the 220 votes it needed to pass the bill. Parties other than Jatiya Party that supported the indemnity bill were Muslim League, Jatiya Samajtantrik Dal (Rab faction), Jatiya Samajtantrik Dal (Siraj faction) and Baksal.
Having indemnified himself for all his deeds, orders issued, decisions made between March 21, 1982 and November 11, 1986, Ershad lifted the martial law.
"The referendum, presidential and parliamentary elections did not help Ershad earn even a veneer of legitimacy. It can be rather argued that these only compounded the legitimacy crisis of the regime," the BIPS study observed.
The High Court's verdict on Thursday, declaring the seventh amendment illegal now proved his efforts to make his rule legitimate a futile exercise.
Moudud Ahmed, who held the posts of vice-president and prime minister in Ershad's regime, in his book "Democracy and the Challenge of Development: A Study of Politics and Military Interventions in Bangladesh" said, "His lack of public trust and credibility ultimately failed to earn him [Ershad] legitimacy as a leader."