'Betrayal isn't enough'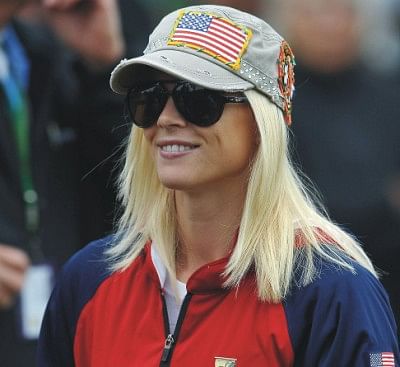 Tiger Woods's ex-wife Elin Nordegren has broken her silence about the couple's failed marriage, in an interview with People magazine published Wednesday, expressing "shock and disbelief" upon learning of his philandering.
"I've been through hell," the former Elin Woods, whose divorce from the golf superstar became final this week, told the celebrity news weekly.
A reporter for the magazine interviewed Nordegren, 30, for 19 hours over four days, scoring her first published reaction to the sordid sex scandal that made headlines around the world.
Nordegren told the magazine she felt "absolute shock and disbelief" when she learned about her husband's multiple infidelities.
"I felt stupid as more things were revealed. How could I not have known anything?" she said.
"The word betrayal isn't strong enough," Nordegren told People. "I felt like my whole world had fallen apart."
The former nanny also told the magazine that the stress from the scandal caused her insomnia and weight loss and in the days before the divorce was finalized this week, she says she began to lose her hair.
Nordegren said that she had been truly devoted to her husband and had hoped that they would have a happily-ever-after life together.
"I loved him. We had so much fun," she said, "and I felt safe with him."
Woods's spectacular fall from grace began on November 27 last year when he crashed his car into a tree and a fire hydrant near his Orlando home.
The incident touched off shocking revelations which led to his admission of adultery and subsequent decision to put his golf career on hold while he tried to rescue his marriage.
The scandal became fodder for tabloid newspapers and late-night television comedians, amid speculation that Tiger's crashed his car after being walloped by a golf club-wielding Elin after she learned about his affairs.
But she insisted to "People" that there was never any violence in their relationship, and that on the night of her husband's mysterious car crash, she was trying to get Woods out of the locked car.
"The speculation that I would have used a golf club to hit him is truly ridiculous," she said.
Woods, 34, and Nordegren issued a joint statement Monday saying that they were ending their "irretrievably broken" six-year marriage, wishing each other the best and promising to work together for their children's happiness.
Woods wed Nordegren in October 2004 in Barbados and the couple have a three-year-old daughter, Sam, and a 19-month-old son, Charlie.
The divorce was finalised by a Florida judge during a 10-minute hearing Monday in a conference room in Bay County Circuit Court.