2 construction workers die in 18-storey fall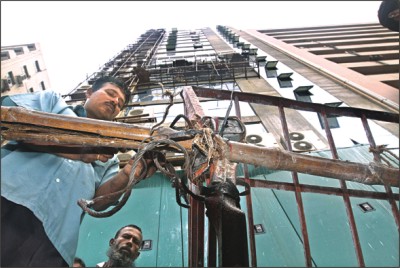 Two construction workers, who happened to be siblings, died after falling from an 18-storey building in the capital's Motijheel yesterday.
The deceased are Abbas Bepari, 32, and his younger brother Swapan Bepari, 30, of Muladi upazila in Barisal. They fell with a window-cleaning platform while using it to paint the WW Tower.
This latest accident is a stark reminder of the gross negligence in safety measures for construction workers. Statistics show, more than 70 construction workers died in workplace-related accidents over the last six months in Bangladesh.
The window-cleaning platform hurtled down and crashed on to a steel case of a generator below on the footpath behind the building, narrowly missing pedestrians, said witnesses.
The workers died instantly as they fell in front of the Wari Club. The iron window-cleaning platform, falling from such a height, also damaged windowpanes of the building, they added.
Mohammad Sohrab Hossain, nephew of the deceased, said another worker Rokon was mixing paint on the roof while his uncles were painting the top floor perched on the rusty platform, which was hanging riskily at the rear of the building.
Our correspondent visited the spot and found the wires attached to the platform to be rusty and worn.
Ziaul Aziz, who supervised the construction work of the four-year-old building, said Abbas Bepari provided the platform as he took the contract of painting the building.
"Abbas agreed to complete the work for Tk 6.5 per square foot using his equipment and manpower while the authorities would be providing with the paint," he said.
However, several workers denied this and said the old platform belonged to the building authorities and was lying on the rooftop for the last four years.
Shahjahan, a worker, said, "The platform was used during construction of the building, a fact which the authorities are well aware of."
Officer-in-Charge Tofazzal Hossain of Motijheel Police Station said they were investigating to detect the cause behind the accident.
Kaiyum, cousin of the deceased, filed an unnatural death case in this connection yesterday, the OC said.
Sekandar Ali Mina, programme director of Safety and Right Society, an NGO working to ensure safety and workers' rights, told The Daily Star that a third of the total workers who die in workplace-related accidents are construction workers.
He said 70 out of 175 workers who died in workplace-related accidents this year are construction workers. Last year, 100 construction workers died while the total death toll in workplace-related accident is 272.