Autistic Children's Products
Fair begins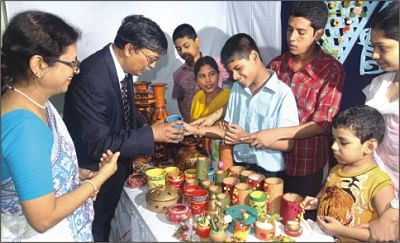 An eleven-day long Eid fair with the products made by a group of autistic children began in the city yesterday.
Greetings cards for Eid-ul Fitr are the main attraction in the fair ahead of the festival. Other products include dresses, candles, card-holders, bed sheets, puppets, door bells and bangles and other gift items.
Autism Welfare Foundation organised the fair at the premises of Kanan, an educational institute for autism children at Mohammad.
AB Bank Managing Director Kaiser A Chowdhury inaugurated the fair. It will remain open from 10:00am to 3:00pm every day excluding the holidays, says a press release.
The AB Bank managing director handed over the key of a microbus to the Chairperson of Autism Welfare Foundation Dr Rownak Hafiz at the programme.