Last US combat brigade exits Iraq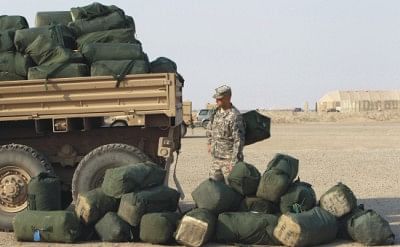 The last US combat brigade pulled out of Iraq yesterday dawn, a key milestone in the withdrawal of American forces more than seven years after the US-led invasion that ousted dictator Saddam Hussein.
Under cover of darkness, the 4th Stryker Brigade, 2nd Infantry Division, crossed into neighbouring Kuwait ahead of the planned declaration of an end to US combat operations in Iraq by an August 31 deadline.
The pullout came two days after a suicide bomber killed 59 people at a Baghdad army recruiting centre in Iraq's deadliest attack this year, sparking concern the country's forces are incapable of handling security on their own.
"Yes, they did," Lieutenant Colonel Eric Bloom told AFP, when asked if the brigade had entered Kuwait. "The last one crossed at about 6:00 am this morning."
"They have a few more days to clean the equipment, prepare the equipment, get it ready for shipment and then they'll fly out (to the United States)."
It took two days for 360 vehicles and 1,200 soldiers to travel from Camp Liberty on Baghdad's outskirts and Camp Taji north of the capital, through the Shiite south and into the Gulf emirate, Bloom said.
The rest of the 4,000-strong brigade left Iraq by air.
Kuwait, which hosts several American military camps in its northern desert close to the border, as well as a naval base, was used as the launch pad for the 2003 invasion.
About 56,000 US soldiers remain in Iraq, with that figure set to drop to 50,000 by September 1, less than a third of the peak level during the "surge" of 2007.
On September 1, the US mission in Iraq will be re-christened "Operation New Dawn", from "Operation Iraqi Freedom" -- the name given to American operations since the invasion.
To fill the gap left by departing troops, the US State Department is to more than double the number of security contractors it employs in Iraq to around 7,000, the New York Times reported.
Citing unnamed administration officials, it said private security contractors would operate radar to warn of enemy fire, search for roadside bombs and fly surveillance drones.
The pullout coincides with the arrival on Wednesday of James Jeffrey, the new US ambassador to Baghdad.
Jeffrey takes up his post during political deadlock in Iraq, with no new government yet formed since elections in March, and in the middle of the holy Muslim fasting month of Ramadan, when insurgent attacks typically peak.
A spike in violence in July, Iraq's deadliest month since 2008, and Tuesday's suicide attack that was blamed on al-Qaeda have sparked disquiet over the readiness of Iraq's own forces.
"We as Iraqis -- the government and the parliament -- did not do anything to prepare ourselves for this responsibility," said Hamid Fadhel, a professor of political science at Baghdad University.