<i>Litigants begin to reap benefits </i>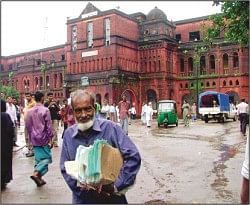 The rate of disposal of cases has increased significantly in Chittagong after the separation of judiciary from the executive on November 1. Many justice-seekers expressed their confidence in the positive impact of the independent judiciary and said their sufferings have declined to a great extent since November 1.
Lawyers at Chittagong court echoed the similar feelings, saying that everybody has noticed a marked change before and after the separation.
"I have long been shuttling between the court and my village at Rangunia Upazila over ten years in vain for disposal of a case seeking punishment of the influential criminals who had launched a brutal attack on my two brothers and father," said Mohammad Yakub, adding that the case is all set to be disposed of soon, thanks to the separation.
He said the pace of trial at court as well as the sincerity of the lawyers concerned that he noticed in his case after November 1 is itself a proof of the fact that the separation was long overdue and inevitable.
Iqbal Ahmed, a small trader from Bakalia in the city, had a problem with his two elders over the share of ancestral land property after the death of his father two years ago. The two filed a lawsuit against Iqbal, what he thinks, aimed at depriving him of rightful share on the property given by his father.
He said his ordeal began when he had lodged a counter complaint. Instead of getting justice in those few months, he said, he got only deferment of date of the hearing until November 1. But after the separation of the judiciary, he has gotten the justice, Iqbal said.
Court sources said five judicial magistrates in Chittagong headed by Chief Judicial Magistrate (CJM) disposed of 1,559 cases in little over one month since November 1, whereas seven executive magistrates until September disposed of 1,120 cases.
Another striking fact is that a judicial magistrate on an average disposes of 312 cases in comparison to only 160 cases by the executive magistrate earlier, sources added.
Another marked change, which contributes to the present speedy trial, is the total working hour of the magistrates, lawyers told The Daily Star.
The judicial magistrates enter the courtroom at around 9:30am and start proceedings of the cases as per daily cause list. The early start of work is not only helping the litigants to get justice in quickest possible time but also saving their valuable time and money and protecting them from unexpected harassment, said Sheikh Iftekhar Saimul Chowdhury, general secretary of Chittagong District Bar Association.
He said the executive magistrates earlier used to start their work at around 12:30pm for which litigants especially those come from distant upazilas of the district were to endure lot of troubles.