Cellphone firms seek more time for user re-registration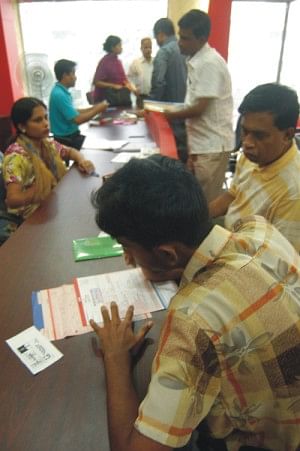 The country's mobile telecom operators have asked the industry regulator to extend the deadline for subscriber re-registration amid fears that millions of customers could have their phones cut off at the beginning of next week.
The Bangladesh Telecommunication Regulatory Commission's (BTRC) deadline for re-registration expires on December 16. The BTRC earlier said it will ask for the lines of those who have not re-registered to be closed.
However the mobile operators say the re-registration process is proving complex, especially in rural areas where many customers lack the necessary documentation, and they need more time to complete the process.
Talking to The Daily Star yesterday, a high official of BTRC admitted that they have received the operators' request to extend the deadline.
"The BTRC has yet to make an official decision," the BTRC source said although he hinted that it is likely that a two-month extension will be granted.
BTRC issued an order to Grameenphone, AKTEL, Banglalink, CityCell and Teletalk to re-register customers who bought connections before February 28, 2006. According to mobile phone operators, 10 million customers need to re-register.
The BTRC's first deadline, October 16, expired with only 25 percent of the affected customers re-registering. This prompted the BTRC to extend the deadline to December 16.
But just before five days before the current deadline is to expire, the mobile operators urged the government that the timeframe should be extended as re-registration activities hampered in the Sidr-affected South-West region.
"We are conducting the re-registration, but it is not at a satisfactory level," said a high official of a leading cell phone company.
To re-register customers must produce a SIM (subscriber identification module) card, two copies of passport size photo, passport or any photo ID card (like the office ID card or driving licence) and the forms and documents given during subscription.
Re-registration is especially difficult in rural areas where many people do not have any kind of photo ID card. If the customer does not have a photo ID card, he/she will have to fill in a BTRC form and get it attested by a first class gazetted officer or by the local ward commissioner.
Sometimes it is very difficult for rural customers to reach a first class officer or their ward commissioner or union council chairman as some of them became fugitives after the state of emergency was declared, said another official of a mobile phone company.
"Certainly, we need time," said the official, adding that the problem of registration would be simplified when the national ID cards are introduced next year.
The total number of mobile phone subscribers has reached 32.33 million at the end of October 2007, according to BTRC.