Historic Dhaka city: Past glory and present crisis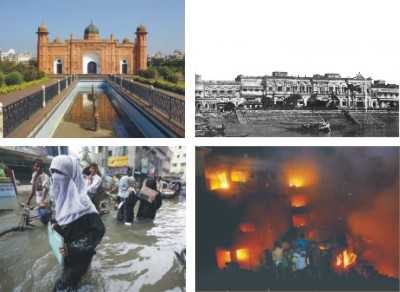 From its beginning as a small city with a few thousand people, Dhaka actually experienced dramatic turns upward and today it has become one of the fastest growing mega cities of the world. Its existence as a major urban agglomeration has been consistent over a period of 400 years. Even the most developed cities in the world today cannot boast 400 years of uninterrupted and organised existence that Dhaka does as a historic city.
In the 16th century during the reign of Mughal Emperor Akbar it was a thana or military outpost having a population of only 3000 people with an area of 2 km² (UNEP, 2005). Then turning Dhaka into a capital city of the eastern province in 1608 by Subedar Islam Khan was epoch making. Since then Dhaka has experienced actual urbanisation and trends of development.
Islam Khan named the city Jahangir Nagar and built a fort for his residence at the site of present central jail. One of the main constructions of that time is known as Chandnighat served for the landing station of army and navy. The bazaar occupying area in between the ghat and fort was originally known as Badshahi Bazar (Chawk Bazar at present). The spacious building which goes by the name 'Bara Katra' also bears the testimony of great Mughal architecture during the 17th century built by Shah Shuja.
Then it was Mir Jumla who contributed greatly towards development of Dhaka. For safeguarding the city he built Mir Jamal's Gate situated at present Ramna area. Also for quick dispatch of ammunition, two important roads, Dhaka-Tongi and Dhaka-Fatulla, were laid, out. These two roads had definite influence on the growth of future Dhaka in these two directions. It was then Shaesta Khan who added pomp and splendour to Dhaka city during his period. Choto Katra, Chawk Bazar mosque, Babubazar mosque, Sat Gombuz mosque, Lalbag fort and Pari Bibi's tomb are the most prominent architectural buildings which still bear the glory of Mughal Dhaka of that time.
Since the city was dignified as a capital, its rapid development was just a consequence. The whole 17th century is remembered as a golden age in the history of Dhaka. The Mughal Dhaka extended to the east up to Narinda, to west upto Hazaribagh and to the north up to Fulbaria on the fringe of Ramna. The stables of elephants were placed at the western end, what we know as Peelkhana. The fort served as nerve of the central city. The residential quarters of officials, government functionaries and merchants etc grew in the area between the fort and Peelkhana and between the fort and Fulbaria.
As a capital for its suitable location Dhaka soon became an important commercial hub and manufacturing station. It was famous for its fine cotton textile "Muslin" in the outside world. Dhaka witnessed brisk trading activities especially with countries including Arabia, Persia, Armenia, China, Malay, Java and Sumatra. As a consequence of this, the Portuguese, the Dutch, the English, the French and also the Armenians found interest to set up their trading houses here on the eve of 17th century. They selected Tejgaon area outside the main city for their commercial establishments -- factories and trading houses. When Dhaka was at the peak of Mughal glory with 0.9 million population, its total area was expanded to 50 km² (UNEP, 2005).
However, in 1717 the capital was again shifted from Dhaka to Murshidabad. Thus its peak of Mughal glory came to an end resulting in serious decline of its demographic and urban structure.
At the beginning of the British period, Dhaka suffered from famines, floods, disease epidemics and also loss of trade and business especially the traditional Muslin was on the verge of extinction. These resulted in a dramatic decrease of population. The area shrinked to only 8 km² and population declined to 0.2 million (UNEP,2005). By the year 1840, the decline came to its nadir.
However, Dhaka started to recover from the second half of 19th century. Dhaka municipality was established in 1864 when the city expanded up to Gandaria as eastern fringe and up to Nawabganj towards the west. Also there was a significant advancement in roads, railways, infrastructure, community facilities and aesthetics of the city. Especially the riverfront with Buckland Embankment was a source of picturesque beauty to the nature lovers with adjacent magnificent buildings like Ahsan Monjil, Mitford hospital and Ruplal house.
Then the partition of Bengal and declaration of capital in 1905 was another epoch making event and indeed was a turning point in the history of political, socio-economic and cultural advancement of the city. Crossing the limit of "Old Dhaka" the development was approaching towards "New Dhaka". A well-laid out new capital was envisaged and to make it aesthetically pleasant with ample greeneries "Ramna Park" was planned which was beautified with flowerbeds, rare trees and lakes. Later, well adjacent to the Ramna Green, Dhaka University was established in 1921 which was an important landmark for educational advancement. However the population of Dhaka, at the end of British period was 0.3 million within 64.7 km² area. (UNEP, 2005).
After partition of the subcontinent and Dhaka becoming the provinvial capital of East Pakistan in 1947, the planned action of development began and spread out in the new band of areas -- Azimpur, New Market, New Eskaton, Tejgaon, Purana Palton, Motijheel and Kamalapur. In 1960 Dhaka was decided to be the second capital of Pakistan. Then what is now called Sher-e-Bangla Nagar was established -- beautifully landscaped with lakes and green avenues, and its most characteristic feature the "Sangsad Bhaban", a magnificent symbol of modern architecture.
After the liberation war in 1971, Dhaka achieved tremendous growth to meet the needs of the newly independent country's capital. The city's population suddenly rose to 2 million in 1974 and within a decade it lept to 3 million in an extended area covering 510 km² by 1981. Then Dhaka city faced its highest rate of physical and population growth during 1981-1991 when its population just doubled and the area expanded from 510 km² to 1353 km². (Hossain,2008). With this current trend of growth, Dhaka today is bulging with a population estimated conservatively to be well over 14 million. By the year 2015, it is projected to jump over 19.5 million when it will be the 5th largest city of the world.
Keeping pace with the magnitude of growth, the urbanization began encroaching on the low lying areas within the city limits and even the adjacent areas of its outskirts. But this great leap forward in the number of people is not matched by the simultaneous creation of infrastructure due to resource constraints and management limitations. Consequently this unprecedented growth has mutated into a symbol of chaos and confusion.
There is unexpected sprawling of slums and squatters. Life here is jeopardized due to tremendous traffic congestion, housing scarcity and extreme water-logging problem. Life here appears to be very much stressed in all respects. Once an important urban agglomeration, Dhaka has already booked its spot as the second worst place to live in. We must not stare in dismay at Nimtali tragedy or the tragedy like building collapsing in a new area, because such a catastrophe is very much possible in a city like Dhaka.
The once aesthetic sources of pleasure such as its surrounding rivers where the boats pleasantly sailed are too polluted compared to the sparkling clean waters of the same in the past. Many parks and ample greeneries which were centres of urban relief and source of fresh air have now been converted into brick and concrete jungle. The vanishing heritage sites and dilapidated settlements only remind us that this problematic Dhaka once attained a prestigious position being one of the premier cities of the Mughal empire.
We have just celebrated the 400th anniversary of capital Dhaka but we cannot ignore its present crises contrary to its glorious past. The time is therefore here and now for serious thought to be given to Dhaka's future. In this circumstance, DAP (Detailed Area Plan) can be an effective tool for development control and making Dhaka livable. We all should come forward for its proper implementation to ensure a better future for Dhaka.
Md. Mashrur Rahman Mishu studies urban and regional planning at BUET, Dhaka. E-mail: mashrurmishu@yahoo.com