Govt to expedite efforts for empowering women: CA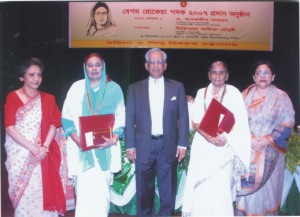 Chief Adviser Fakhruddin Ahmed yesterday said the government wants to accelerate its ongoing efforts to pave the way for empowering women in all spheres of society to establish their rights.
But the country still has a long way to go to reach the goal, he observed while addressing a function at the Osmani Memorial auditorium, organised by the Ministry of Women and Children Affairs marking the Begum Rokeya Day.
Chaired by Women and Children Affairs Adviser Geeteara Safiya Choudhury, the function was also addressed by Women and Children Affairs Secretary Rokeya Sultana.
Advisers, academics and representatives from various women organisations and NGOs were also present.
The chief adviser handed over Begum Rokeya Padak 2007 to Prof Latifa Akand and Prof Dr Hosne Ara Begum for their outstanding contributions to women education and development at the function.
The award carries a gold medal and a certificate.
Fakhruddin urged the womenfolk to be inspired by Begum Rokeya's ideals and spread her thoughts to even the remotest areas of the country to pave the way for women empowerment.
Begum Rokeya as a social reformer specifically stated that interests of men and women are no different as women and men are like two eyes of the society, he added.
"This statement of Begum Rokeya did not harbour any anti-male attitude, rather laid importance on complementary relation between men and women, now reflected in the gender-mainstream idea of the international arena," he told the function.
He said the call of Begum Rokeya for the women to become self-reliant did not go in vain. "Imbued with her spirit, ideal and appeal, the women of this country are marching ahead… Today, gender-friendly budget has become essential precondition also in development planning of Bangladesh."
He said participation of women is now increasing in all areas of the society -- as public representatives and in military and civil administration, judiciary, and trade and commerce. The women have proved their worth in all challenging professions.
Recalling Begum Rokeya's struggle against repression on women in her time, he said unfortunately such situation still prevails in some places. Putting an end to this is now very urgent, he added.
Later, the chief adviser and his wife Neena Ahmed witnessed a musical drama, based on the life of Begum Rokeya, performed by children.