RMG sector still in grip of violence
80 injured in clashes in Ashulia, Narayanganj, Chittagong a day after 'understanding'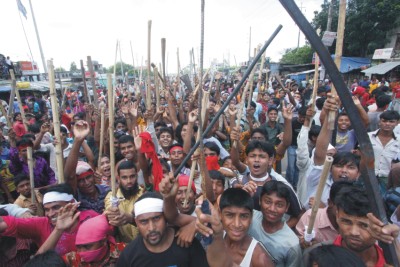 RMG workers continued demonstrations in Ashulia and Narayanganj yesterday even though labour representatives agreed to the new pay scale the previous day with a pledge to help maintain normal work environment in industrial areas.
At least 80 people were injured as labourers clashed with police in Ashulia and Narayanganj for the third consecutive day.
Production in several factories was suspended after the workers resorted to violent protests demanding a minimum wage of Tk 5,000 with effect from August 1.
Meanwhile, workers of two garment units of Azim Group in Kalurghat BSCIC Industrial Area in Chittagong went on the rampage on Sunday night and yesterday bringing production to a halt, reports our staff correspondent from Chittagong.
The labour representatives at a meeting with ministers, chamber leaders and garment owners on Sunday agreed to the new pay structure for garment sector and promised to help keep normal work environment in industrial areas.
Agitating workers got involved in a series of clashes with police at Katherpool of Fatulla and adjoining areas in Narayanganj leaving 50 people injured.
They demanded Tk 5,000 as minimum wage with effect from August 1 and immediate release of Montu Ghosh, adviser of Garment Sramik Trade Union Kendra and district CPB unit president.
They pelted the law enforcers with brickbats and attacked two garment factories, over 50 shops and houses on the post office road. They also damaged five vehicles, reports our Narayanganj correspondent.
Ten policemen including Assistant Superintendent of Police Reazul Kabir, SI Shahidul Islam, constable Harun and Shahidul Islam were wounded in the clash.
About 40 others including ATN Bangla Narayanganj correspondent Abdus Salam, BTV correspondent Mahfuzur Rahman, and garment workers Rehana, Zarina, Raja Mia, Kalam Mia, Asma, Sakila, Jobeda and Rehena Begum were also injured in the clashes.
Police lobbed 50 teargas canisters to bring the situation under control.
The angry labourers put barricades on the Dhaka-Narayanganj Link Road in Shibu Market area shortly after 11:00am bringing the traffic to a halt for three hours.
The authorities of nine export-oriented garment factories at Fatulla wrote to the deputy commissioner and the police super urging them to ensure proper security at the factories.
Witnesses said, about 20,000 workers of Pall Mall, Mircrofibre, Liberty, Midland and Cadtrex Garments turned up at the factories. They demonstrated inside the factories instead of joining work.
They hurled brickbats at police from the rooftops.
Nearly 12,000 workers from different garment factories in Katherpool area took to the streets at around 10:30am defying police obstruction.
The labourers and law enforcers got involved in chase and counter chase prompting the police to lob 50 teargas shells.
Meantime, 30 RMG workers were injured in Ashulia after they clashed with police protesting the new pay hike, which they say is still too low, adds a correspondent from Ashulia.
Five workers were arrested on the Bishmile-Jirabo road, the scene of violence.
Police filed a case accusing 700 workers of vandalism on Sunday.
Authorities of 12 garment factories in the area announced holiday yesterday fearing clash.
The workers attacked three garment factories and made a fire in front of one of the factories. They also blocked the Bishmile-Jirabo road shortly after 10:00am.
The labourers got involved in chase and counter chase with police when the law enforcers tried to restore vehicular movement on the road.
They pelted the policemen with brick chips prompting them to fire rubber bullets and teargas canisters.
Fire fighters doused the flame in front of the factory gate.
Meanwhile, production in two garment units -- Orchid Knitwear and Global Knitting in the port city -- was halted after the workers demonstrated in the morning demanding a pay hike.
They agreed to join work as the factory authorities agreed to increase "piece-rate" after a meeting at about 2:00pm, said Md Moyeen Uddin, deputy secretary of Bangladesh Garments Manufacturers and Exporters Association (BGMEA).
The workers of the two garment units had also staged demonstrations on Sunday night demanding a raise in wage.
The workers attacked two factories of Azim Group and three other factories nearby.
Police swung into action swiftly and brought the situation under control.
RESTRICTION ON FOREIGNERS' INVOLVEMENT WITH TU
The cabinet has decided not to allow any foreign national with tourist visa to get involved with trade unions in Bangladesh.
The decision came at a weekly meeting with Prime Minister Sheikh Hasina in the chair.
The cabinet expressed concern over the recent labour unrest in the garment sector.
Many foreign nationals with tourist visa have been involved with trade unions and are causing unrest in the sector for the interests of their nations, the meeting was told.
"It will be strictly overseen from now on so that no foreign national can come to Bangladesh with tourist visa to get involved with trade unions. If they want to come here for this purpose, they must get visas under a special category from the Bangladesh government," a senior minister told The Daily Star wishing anonymity.
The government has a list of foreign nationals, who came to Bangladesh with tourist visa and got involved with trade unions with the help of many NGOs, said sources close to the meeting.
Many of them are staying in Bangladesh although their visas have already expired, added the sources.