Celebrating monsoon
Barsha Mangal Utshab in Thakurgaon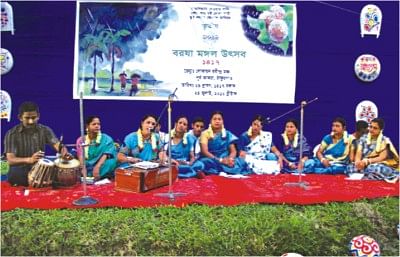 'Barsha Mangal Utshab' was held last Sunday evening at Rabindra Moncho at Lokayan Museum premises, Akcha village, under Thakurgaon sadar upazila.
Additional Commissioner of Rangpur Division, Miah Abdullah Mamun, attended the event as chief guest. Superintendent of Police, BM Harun-ur-Rashid and Additional Deputy Commissioner (ADC), Abdul Mannan, attended the programme as special guests. Muhammad Shahid Uz Zaman, chairman of Lokayan and also executive director of Eco Social Development Organisation (ESDO), was in the chair.
The programme included renditions of monsoon themed Tagore, modern and folk songs.
The soiree began with Jasmin rendering a folk song. Then cultural team of ESDO rendered "Barisho dhara majhe shantiro bari," "Mono mor meghero shongi," "Esho nipo bon-e" and more. Young artiste Shashota Zaman; eminent cultural personality Professor Montosh Kumer De; Muhammad Shahid Uz Zaman; Touhidul Islam and Rikta Rani Bhattacharya recited poems at the programme.
Following the Barsha Mangal Utshab, a discussion was held. The discussants were of the view that writers and poets have written on different seasons. But Rabindranath presented nature competently in his songs and submitted a true picture of the country's six seasons, especially the monsoon.
The speakers appreciated the organisers for taking such initiative to help promote our heritage and culture to the younger generation.
Lokayan Chairman Muhammad Shahid Uz Zaman said in his speech, "Usually museums preserve objects and memorabilia related to civilisations, rulers and other renowned persons. We have taken a different initiative to preserve objects that represent the lifestyle of our common people, like farmer's hat, fishing materials, different types of plough, indigenous weapons used for hunting, local musical instruments, documents of agreements between landowners and farmers, rural wear etc."
He also informed that the museum has received a good response from people across the country and several items have been donated to the organisation.
Among others, Additional Deputy Commissioner (Revenue) Shah Alam; Additional District Magistrate Enaetullah Khan Yusuf; Professor Montosh Kumer De and Principal of Eco Pathshala Selima Akhter spoke at the discussion.