Alonso wins German GP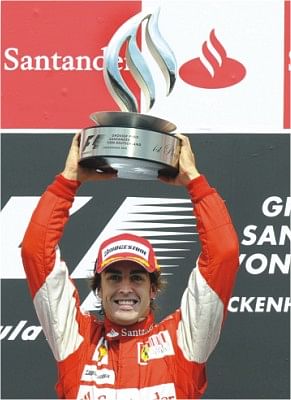 Spaniard Fernando Alonso took full advantage of his Ferrari team's support for their number one driver to win Sunday's German Grand Prix in controversial circumstances.
Alonso's win not only revitalised his bid for a third world title, it also crushed his Ferrari teammate Brazilian Felipe Massa's hopes of victory.
He was told to move over as 'Fernando is faster' in a message that signalled he had to let him pass - reviving the old arguments about team orders in Formula One.
Alonso proved his pedigree with a strong drive, withstanding third-placed Sebastian Vettel's attack at the start before being gifted the lead in the closing stages when Massa was virtually told to concede the leading position.
Massa, told that Alonso was "faster" than him and asked to confirm he understood the message, gave up the fight and finished second ahead of Vettel, in his Red Bull, with the two McLaren drivers, Britons Lewis Hamilton and Jenson Button, taking fourth and fifth.
Vettel's Red Bull team-mate Australian Mark Webber was sixth, Pole Robert Kubica seventh for Renault ahead of Mercedes drivers and fellow Germans Nico Rosberg and Michael Schumacher with Russian Vitaly Petrov in the second Renault completing the top ten.
Alonso's win took him to within 34 points of drivers championship leader Hamilton, who has 157 points.
Button is second with 143 points while Webber and Vettel are third equal with 136 points.
Alonso's win revived memories of the controversy that followed the 2002 Austrian Grand Prix when Brazilian Rubens Barrichello was ordered to hand victory to Michael Schumacher - a decision that caused uproar and led to tighter rules on team orders.
Alonso was delighted with the performance of his team and the car.
He said: "We have been competitive, we performed really well all weekend.
He added that he was aware of the obvious team orders.
"I don't know what happened but I saw Felipe was a little bit slow, and you have to take every opportunity you have.
"Sometimes you are quick, sometimes you are slow, some parts of the race Felipe was quicker, so it was very difficult to judge.
"The best thing is the result for the team, top two."
Massa, clearly distraught at having his first win of the season taken from his grasp, was reluctant to comment.
"I don't think I need to say anything about it - he passed me. The only thing I feel is that I did a good job for the team, that is the most important thing.
Vettel said he was 'emotional' after his first podium finish in front of his home crowd.
He said: "Finishing on the podium is very special for me, it's very nice and I am very emotional.
He added that he was disappointed with his start but admitted that Ferrari were deserved winners.
On a dry but overcast day, Massa made a scintillating start from third on the grid to take full advantage as a sluggish Vettel got involved in a battle with the charging Alonso.
It was a perfect opportunity for two Ferraris to show their speed and aggression and they swamped the young Red Bull driver, leaving him behind as they pulled clear at the head of the field.
In the skirmishes behind them, Hamilton moved up to third ahead of Webber in the second Red Bull with Button slotting into sixth and also Michael Schumacher, making light of his advancing years by jumping from 11th to eighth on the opening lap.
With Massa out in front and Alonso chasing the Spaniard told Ferrari over the team radio after 21 laps that "this is ridiculous!" because Massa refused initially to concede the lead a year to the day on from his terrible accident in Hungary.
"Gap is three seconds - we need everything Felipe and if we keep this going, we can win," Massa's engineer Rob Smedley told Alonso.
With the gap down to just one second as the final laps approached Massa was told over the radio, "Fernando is faster than you - can you confirm you understood that message?"
That signalled the end of the Brazilian's bid for glory and left the way clear for Alonso to win.