Grisly days over, memory lives on
Kins of 1971 victims reminisce infamous Mirpur 'Jalladkhana'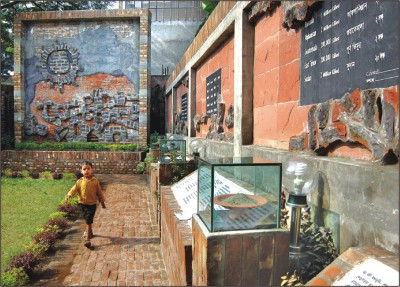 "It has become tiresome for me. From March to December every year journalists come to me and I have to describe the painful incident --how my husband was martyred in 1971. The story is published in newspapers. After these months are over, everyone forgets the issue," said Hamida Begum, the widow of Shaheed Kashabaddouza.
Kashabaddouza is one of the innocent Bangalees killed on March 28, 1971 in Mirpur killing field known as the Jalladkhana (butchers' den).
"Everyone talks about punishing the war criminals. Policymakers and intellectuals give statements during this time of the year but no one does anything about it. It is a shame that we still have to fight for justice while the war criminals remain unpunished even after 36 years of independence," said a frustrated Hamida.
The widow was reminiscing about the Liberation War at a gathering of schoolchildren in the Jalladkhana memorial in Mirpur. Every Saturday at 4:00pm the Liberation War Museum organises a special session at the memorial where members of martyr families share with the schoolchildren their memories of the war.
While Hamida was describing the gruesome day, some 20 schoolchildren from Dhaka Ahsania Mission School listened to her with keen attention to the history that they know from books vaguely and in a distorted form. Through her haunting stories, the children came to know about the genocide that took place in 1971.
Mirpur was a predominately Bihari area before independence. The Biharis attacked their house along with Bangalee collaborators and Pakistani army on March 28.
"The same Biharis who had been our neighbours for years brought the military to my house. They took my husband and his elder brother. A few hours later we heard the news that they were brutally killed with bayonets inside the Jalladkhana," said Hamida who gave birth to a baby girl 16 days after Kashabaddouza was martyred.
"I don't have memories of my father to remember him by. The memorial ground is now like a home to us. We feel the presence of our beloved father here," said 36-year-old Shahina Doza, who was born after the martyrdom of her father.
Suman, a class six student of Ahsania Mission School, was listening to Hamida's story very attentively. "I haven't seen the war. But hearing the stories today I almost visualised the massacre. Now I can feel the spirits of the martyrs."
"I always had a feelings that Liberation War is something we read about in the book as stories. But today I learned it was real with real people sacrificing their life," said Selina, another class six student at the gathering.
Mirpur was liberated on January 31, 1972, one and a half months after the victory on December 16, 1971. Total number of killing fields in Dhaka city and Tongi is around 27, of them the highest six are located in Mirpur area.
Shariful Islam Bablu, a teenager back then, who escaped the genocide of Jalladkhana miraculously, said, "My friends who played with me every day brought me to Jalladkhana on July 28, 1971 to kill me. However, one of them saved my life."
"I was already half dead with severe beating when they brought me here. They dragged me inside the pump house. I saw a sea of blood inside," he recalled.
"They thought, by hiding the bodies they would be able to hide their crime but it was uncovered along with the skulls and bones of the martyrs," Bablu added.