Curtain falls on Bulbul Ahmed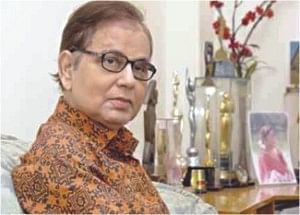 Famed for his portrayal of the iconic role Debdas, Bulbul Ahmed would've turned 70 in another three months. Apparently he wanted to celebrate the upcoming birthday but fate had other plans. On July 14, around 1 am, the famed actor passed away.
Ahmed has been unwell for quite some time. On July 14, when his condition rapidly deteriorated, Ahmed was taken to Square Hospital in Dhaka. His body has been kept at BIRDEM. The janaza will be held today after jumma prayers at FDC.
A spell of sorrow has descended on Bangladeshi filmdom as the news broke. Veteran actress Shabnam said, "He was a wonderful human being and could embrace anyone with ease. I'd done only one film with him -- 'Love in America' directed by Mohsin."
Actress and lawmaker Kabori had been paired with Ahmed in several films. The visibly moved actress said, "He was very gracious. I have so many fond memories involving him. We had done 'Debdas,' 'Dui Jibon,' 'Bodhu Bidaye' and 'Kolmilota.' During shooting for 'Debdas' he told me, 'Dreams are beautiful but when they get shattered, they leave behind incredible heartache.' I'll always remember that. We have not only lost a remarkable artiste but also a man with a big heart."
Noted filmmaker Chashi Nazrul Islam, who cast Ahmed as Debdas in his film, said, "With Rahman passing away, I lost my Chunilal; now I've lost Debdas. Apart from 'Debdas,' he had acted in two other films directed by me -- 'Shubhoda' and 'Bhalo Manush.' He was an educated, polished actor. His [Ahmed's] death has created an irreparable void in the movie industry."
Ahmed's contemporary, renowned actor Razzaque said, "We were not just co-artistes; the bond between us was more than that. His sudden death has shaken me. I pray to Almighty that my friend is granted eternal peace. We had done around 18 films together. I acted in "Rajlokkhi Srikanto' directed by Bulbul.
Fellow actor Sohel Rana said, "His [Bulbul's] passing away was certainly sudden. He was a real gentleman and never spoke in loud voice. He moved to films from TV but we became fast friends. I'll forever cherish our times spent together."
Actress Shuchorita said, "I'd been meaning to visit Bulbul bhai for the last few days. I still can't believe he is gone. He was very down to earth and an amazing human being."
Seasoned actress Sharmili Ahmed said, "He played the male lead opposite me in 'Rupali Shaikotey' and 'Aradhona.' I'd acted in three films directed by him. Not sure how many TV plays we'd done together. I have so many memories of him. I couldn't stop crying when I heard the news this morning."
Tabarruk Ahmed Bulbul was born on September 15, 1941 on Agamsi Lane, old Dhaka. Son of Mohammad Khalil Ahmed and Mosammat Moslema Begum, Tabarruk completed his MA from Dhaka University. His father was an amateur actor and young Tabarruk was inspired to delve into the medium by him. He worked as a banker from 1965 to '75. As an actor he decided to go by the name 'Bulbul Ahmed.' Ahmed's acting career began with theatre. His big break came with the film "Iye Korey Biye" (1972). Among his memorable films are "Shimana Periye," "Mohona," "Jibon Niye Jua," "Bhalo Manush," "Shesh Uttor," "Mohanayak," "Harano Manik," "Shonar Horin" and more.