Bangladeshis win regional awards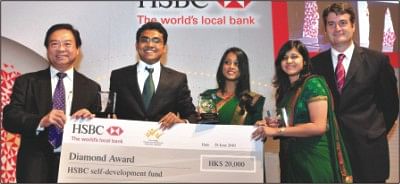 A Bangladeshi team yesterday bagged the Diamond Award at the HSBC Young Entrepreneur Awards 2010 in Kuala Lumpur for presenting business plans to mitigate the waste of urea fertiliser and increase productivity of soil fertilisation.
The team is second only to Hong Kong that bagged the Platinum Award. The Philippines finished third and received the Jade Award.
Now in its 10th year, more than 1,000 teams from six Asian countries took part this year in the regional business plan competition. Two to three university students formed the teams.
HSBC hosted this year's regional finale in Kuala Lumpur, where the best teams from each country battled.
The Bangladeshi winning team comprises three students: Siffat Sarwar, Sababa Islam and Sazzadur Rahman from the Institute of Business Administration, Dhaka University.
The Bangladeshi students attributed their success to the fact that their plan focused on the practical, grassroots realities in Bangladesh.
The team received HK$20,000 (Tk 1.78 lakh) in prize money, in addition to their winning trophies. The prize money for the first and third position is HK$100,000 and HK$10,000.
In the race to the finale, the best Bangladeshi team was selected from among 375 teams from different public and private universities.
Outperforming other teams in multiple rounds and based on rigorous, detailed parameters, the best team eventually reached the regional stage.
The other competing teams came from Brunei, the Hong Kong SAR, Malaysia, Philippines and Thailand. The teams from City University of Hong Kong and Ateneo de Manila University of the Philippines won the Platinum and Jade awards.
Mukhtar Hussain, HSBC chief executive officer in Malaysia, who is also the bank's global head of Islamic Banking Awards, handed over the awards as the chief guest.