Prime accused, 2nd wife held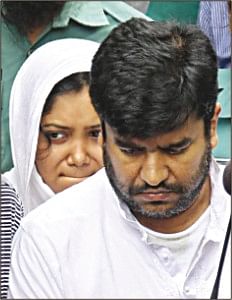 Detective police yesterday arrested Rashedul Kabir and his second wife Razia Sultana Smriti from the capital's Gulshan area in connection with the deaths of Farzana and her two children.
A DB team led by Assistant Commissioner (AC) Mohammad Mukhlesur Rahman arrested the couple from opposit Pizza Hut in Gulshan-1, where they were waiting for a taxicab around 11:45am.
Rashedul and Smriti were going to another hideout from a house in Badda, said AC Mukhlesur.
With them the number of arrestees in this connection rose to nine.
Investigation officer (IO) of the case Sheikh Md Mahbubur Rahman produced Rashedul and Smriti before a Dhaka court, which placed each of them on a seven-day remand.
The court also placed Rashedul's parents Shafiqul Kabir and Noor Banu, his sisters Kabita and Sukhon and Kabita's husband Delwar Hossain Patwari each on a fresh three-day remand.
Deputy Commissioner Monirul Islam of DB said Smriti is not expecting a child as mentioned in the wall writings in Farzana's bedroom.
He said they are trying to find out how and why the rumour was spread which, according to the wall writing, led to the deaths of the mother and her two children.
The IO said the rumour of Smriti's pregnancy did have a vital role in Farzana and her children's "suicide", which is evident in one the wall writings.
The Detective Branch, however, is still waiting for the viscera and autopsy reports and opinion of the CID handwriting experts to determine whether it was a case of suicide or homicide.
Meanwhile, detained driver Al Amin is being interrogated on a fresh three-day remand while Abdul Gaffer, who sold sedatives to Amin, was sent to jail after his two-day remand.
"It is almost certain that family feud caused the tragic incident. We are now trying to find out to what extend Farzana's in-laws, Rashedul and Smriti are responsible for the deaths," said DC Monir.
He added that the arrestees would be brought face to face during the interrogation to verify the information extracted from driver Al Amin.
The bodies of Farzana, Pabon and Payel were found in their Jurain residence on June 11. The very night Farzana's mother Mazeda filed a case with Kadamtoli Police Station against eight people under woman and child repression prevention act.