South Africa 2010 FIFA World Cup
Suarez sinks South Korea
Uruguay first to reach last 8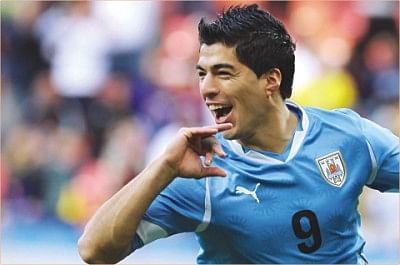 Uruguay became the first country to make it into the World Cup quarterfinals with a 2-1 win over South Korea at a sodden Nelson Mandela Bay stadium here on Saturday.
Goals in either half from Luis Suarez earned Uruguay - who last made the quarterfinals in 1970 before finishing fourth - a last eight date with either the United States or Ghana - who meet later Saturday - in Johannesburg on July 2.
In a lively last 16 tie played out at a disappointingly only three quarter full venue South Korea almost caught Uruguay on the hop in the fifth minute.
A superbly taken freekick by Park Chu-Young from 25m curled past the Uruguayan wall only for the ball to ricochet off keeper Fernando Muslera's right post.
Sloppy defending and poor goalkeeping by 2002 semifinalists South Korea contributed to Uruguay taking control of the game three minutes later.
Edinson Cavani was the instigator of the move, the Palermo forward floating a high ball over to the left for Diego Forlan.
The in-form Atletico Madrid striker deftly slipped his marker to drill a sliderule pass across the Korean goalmouth.
Keeper Jung Sung-Ryong could have dealt with the danger but he seemed strangely lethargic in his reaction.
That was a pity for him as Suarez was lurking unattended to chip into an open goal from a tight angle by the right hand edge of the box.
Once the South Koreans regained their composure they put together a handful of sharp attacking moves, with Park Chu-Young for one forcing a dive out of Muslera.
They went into the break a goal down but encouraged by having been for the most part the better side.
Uruguay coach Oscar Tabarez made one change in defence after the interval, Mauricio Victorino coming on for Diego Godin.
Tabarez's men had yet to concede a goal in South Africa but they were having their work cut out to keep their fourth consecutive clean sheet - Park Chu-Young missing the target with a close range volley on 55 minutes.
And Lazio's Muslera did well to save captain Park Ji-Sung's bullet header shortly after.
With the rain teeming down South Korea finally got the breakthrough they deserved in the 68th minute.
Ki Sung-Yueng sent in a high free kick from 30m into the area for Bolton's Lee Chung-Yong to head home the failed clearance, Uruguay defender Jorge Vacile slithering after the ball into the netting.
But 12 minutes later Uruguay were back in front.
A corner taken from the right by Forlan found its circuitous way to Suarez who then unleashed a brilliant curling right-footed shot from the left hand edge of the area to leave Jung and his teammates stunned.
With three minutes to go South Korea almost sent the game into extra time when Muslera failed to hold on to substitute Lee Dong-Gook's shot.
As the ball slowly made its way towards an empty goal Uruguay captain Diego Leguano appeared on the scene to save the day.