Landslide worries hillside people
1380 families have been identified as vulnerable in Khagrachhari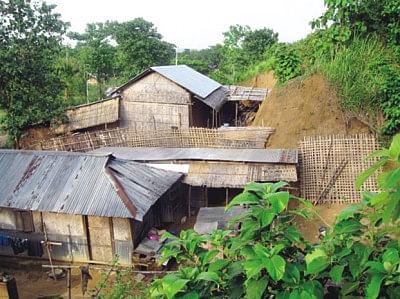 At least 3,000 people, living in the hillside, have been passing sleepless nights in the hill district of Khagrachhari as the rainy season has set in, posing a risk of landslides due to torrential rains.
A total of 1380 families have been identified as vulnerable to landslides at several places under eight upazilas in Khagrachhari. But neither district administration nor Khagrachhari hill district council (KHDC) is yet to take any initiative other than conducting a so-called survey to save the vulnerable families.
Khagrachhari District Administration, KHDC and Public Works Department (PWD) and police in a joint survey last year identified about 250 families as vulnerable to landslides in Sadar upazila and 200 in Matiranga upazila, 200 in Dighinala upazila, 100 in Panchhari upazila, 150 in Ramgorh upazila, 120 in Manikchhari upazila, 180 in Mohalchhari upazila and 80 families in Laxmichhari upazila in the district.
Several thousand people of these families have been living at the bottom or slopes of hills risking their lives, sources said.
The survey recommended rehabilitation of the most vulnerable families to safer places within two years.
But, no initiative has been taken to rehabilitate them with one year already elapsed.
Mohammad Sayed, member of a vulnerable family in Ganjapara area in the town said, "No one appears to think about our safety or future. Administration has kept its initiative confined only to several surveys and nothing has been done to rehabilitate us elsewhere".Safura Khatun, 58, from Shalbagan village under Sadar upazila, said they have built their house cutting hills but now facing threat of landslides due to torrential rain and passing sleepless night. She sought assistance from government in this regard.
Abu Daud, network member of Bangladesh Environment Lawyers Association (BELA) said risk of hill collapse or landslide is now three times higher with hill cutting going on unabated.
He said they demand the immediately take measures to rehabilitate those living in vulnerable areas to avoid any untoward incident.
Public Works Department Engineer Pradeep Kumar, also a member of the survey committee, said as per government order they have prepared the list of vulnerable families and submitted it to the authorities concerned with recommendations. But, they are yet to get any response till date.
"It seems everybody forgets everything as soon as the rainy season is over," he said.
When contacted KHDC member Mohammad Sahabuddin Mia said the district council administration wants to rehabilitate vulnerable families to suitable places. But, they are yet to know the number of people whom have to be rehabilitated on emergency basis or the area of land required for the rehabilitation.
Deputy Commissioner Md Anis Ul Hoque Bhuiyan said, "A list was prepared after landslides took place in several areas in August last year."
"A survey report with some recommendations was also submitted to the authorities concerned. But, resettlement of the people from the vulnerable areas has become difficult without rehabilitation," Anis said, adding that direction to acquire land for rehabilitation is yet to come.
Khagrachhari Hill District Council Chairman Kujendra Lal Tripura expressed his ignorance about the list of vulnerable families since he took the office only few months back.
"However, I have already started communicating with others concerned and will take measures to save lives and properties of the people," he said.