Orao play to take part in World Festival of Children's Theatre
Bangladeshi group left for Germany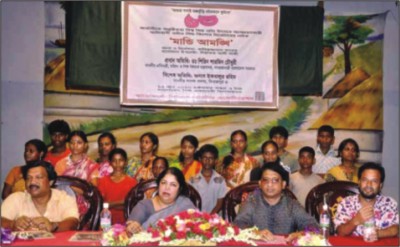 A 15-member team of Orao Shishu Kishor Theatre, consisting of indigenous youngsters, from Dinajpur recently left for Germany to take part in the World Festival for Children's Theatre. The festival will start on June 26.
The Bangladeshi group will stage an Orao play, "Maddi Amangkhi," at the festival. Tarikuzzaman Tarek has written the script of the play Tarek is also the director of the production.
Before leaving Dinajpur, the play was staged at several venues in Dinajpur. The play was lauded by audiences throughout the district.
"Maddi Amangkhi" was also staged recently at Bangladesh Shilpakala Academy in Dhaka. State Minister for Women and Children's Affairs, Dr. Shirin Sharmin Chowdhury, attended the show as chief guest. Iqbalur Rahim, lawmaker of Dinajpur-3 constituency and eminent cultural personality Liaquat Ali Lucky attended the show as special guests.
The state minister congratulated the indigenous performers for taking part in the theatre festival in Germany. In her speech she expressed her desire that the artistes of the country would represent the thriving culture of Bangladesh in the global arena.
Lawmaker Iqbalur Rahim hoped that the artistes would entertain and fascinate theatre enthusiasts from all over the world at the festival. Iqbalur Rahim recently donated Tk 1 lakh for the group's preparatory expenses for the German tour.