Shifting gears
Boman Irani sings along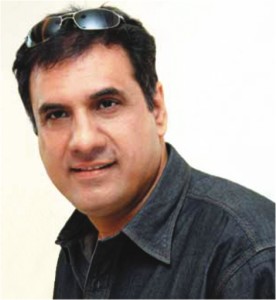 Boman Irani may have wowed you with his acting prowess but he now wants to impress you in a new role--that of a playback singer.
The audience was treated to his skill as a crooner at the recent India International Film Festival (IIFA) award function in Colombo and Irani now says he is open to offers for playback singing in movies.
The 53-year-old actor, who earlier showed his skill as a photographer and then as an actor, said actors Anil Kapoor and Salman Khan encouraged him to take his passion for singing forward.
Singing, said Irani, has been his desire for a long time now but he made it clear that he did not want to take up it as a career option.
"Singing is a fun thing. But I am not looking at singing as a career. I am not a trained singer but I am open to singing for films," said the actor who has featured in films like "3 Idiots", starring Bollywood star Aamir Khan, and "Well Done Abba" directed by Shyam Benegal .
At a concert in Delhi, Kolkata, Pune and Hyderabad cities- dates of which will be announced soon, Irani will perform three songs on stage with guitar on stage with singer-composer Shankar Mahadevan.
Under the guidance of music director Raju Singh, Irani struck the right chord with guitar on Raju Hirani's "3 Idiots" song '"Give me some sunshine..." at the IIFA in Colombo.
Irani said Shankar will be the main singer, whereas he will do a solo from
"3 Idiots', "Give me some sunshine..." and a Frank Sinatra number "My Way..."
There are reports that Irani has been invited by legendary singer Asha Bhonsle to sing with her in a new album. If that happens, the actor will be the fourth non-singer in recent times to do so after Australian cricketer Brett Lee and Bollywood actors Urmila Matondkar and Sanjay Dutt.
Irani said while he is used to singing in parties and get-togethers, he is now open to doing so as a professional.