Shironamhin's interpretation of Rabindra Sangeet
Band's fourth album in the pipeline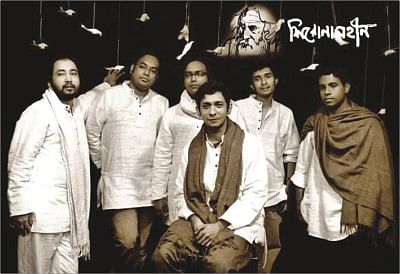 How would a Tagore enthusiast react if the intro to the song "Shudhu Tomar Bani Noy" features guitar riffs instead of the usual harmonium, or if "Phooley Phooley" features instruments perhaps used in the original Scottish piece Tagore was inspired by?
Shironamhin takes up the challenge to impress Rabindra Sangeet aficionados with its deconstructive approach to some of the Nobel laureate poet's songs. The band is working on its fourth album at present. Titled "Shironamhin-Rabindranath," the album will feature nine songs, both popular and lesser known.
Recording of the songs are already complete, informed Ziaur Rahman Zia, bassist and leader of the band. The songs are -- "Shakatorey Oi Ka(n)dichhey Pran," "Gram Chhara Oi Ranga Matir Poth," "Phooley Phooley," "Sawano Gaganey," "Kichhu Bolbo Boley," "Shudu Tomar Bani Noy," "Jetey Jetey Ekla Pothey," "Purano Shei Din-er Kotha" and "Tumi Ki Keboli Chhobi."
With their signature style and thematic lyrics, Shironamhin has already won over many music enthusiasts across the country. The three albums released so far by the band are very popular with the young music lovers.
When questioned why the band has decided to work on Rabindra Sangeet, Zia said that it's mainly because of Tanzir Tuhin's (vocalist of the band) interest. "Tuhin has trained in Rabindra Sangeet since childhood. He trained under reputed teachers for a considerable length of time and has been wanting to record an album of Rabindra Sangeet," said Zia.
Why has the band chosen to release a rock version of the classic songs? Zia explained, "With our previous albums, we have attained a certain group of fans, who love our musical style. We cannot disregard that response and their taste in music. Neither do we want to change our style."
"As far as I know, there is no restriction regarding musical arrangement of Tagore songs if we follow the swaralipi (notation) as specified. We have done so in the upcoming album. We followed 'Geetobitan' meticulously," Zia added.
Like "Bondho Janala" (2009), the upcoming album features a number of guest musicians. The band has also recruited a new member, Diaat, who plays guitar and banjo.
Zia said that the album might be released during the upcoming death anniversary of Rabindranath Tagore.
Shironamhin's first two albums are "Jahaji" (2004) and "Ichchhey Ghuri" (2006).