Inspiring shapes and forms
Iftikhar Uddin Ahmed's solo exhibition in the pipeline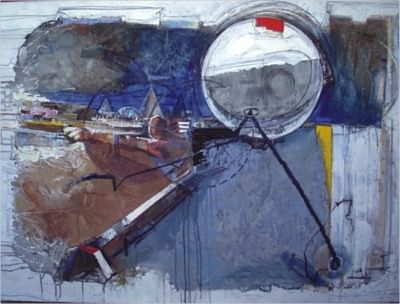 After a hiatus of two years, Iftikhar Uddin Ahmed, a noted Bangladeshi painter, has returned to Dhaka from Canada. Semi-human figures and visages are noticeable in his present works. Previously his works were purely abstract-based where architectural and geometrical forms and lines were brought together.
Iftikhar says, "An artist's life is all about transformation. An artist has no control over the changing themes in his works. Nature, location, solitude and personal observation cause change in an artist's works. A painter never does it conspicuously, it only happens subconsciously."
Iftikhar is an artist who blazed a trail in the '80s. He hails from Mahuttuly, one of the historical parts of Old Dhaka, an overpopulated area. This gave him an opportunity to closely observe the city. The changing city, peoples' behaviour and cruelty had a deep impact on him.
Iftikhar began his artistic career as a semi-abstract painter after completion of his MFA in 1986 from the Institute of Fine Arts (now Faculty of Fine Arts, University of Dhaka). His works can be divided into two phases. Before the '90s, he produced figurative works. In this phase, his works mainly represented the disadvantaged and deprived people of the society. Paintings from this period highlight rickshaws, wheels, prostitution, working people and some familiar feature of Old Dhaka. Pain and joy, jealousy, depression, paucity and other themes were mirrored on his canvas.
In some of his works, faces seem prehistoric and persuasive. The expressions are superb and impressive. By creating so many faces from different perspectives, he has demonstrated his creativity.
Gradually figures have been missing in his works and various kinds of forms, symbols, textures, oval, triangular and rectangular forms and lines took over the canvas. Geometric structures and architectural views give a new perspective to his works. The lines are sometimes broken or appear as doodles and dots. Graph papers and worn out maps come into play as collages, while vermilion and blues stand in contrast to each other. Adjoining columns, slabs, walls, broken pillars, compass, broken doors, windows, metre scales, scattered papers are recurring objectss in his works. The artist uses bold colours that give an uneven textural look to his works. His canvas is truly representative of our modern urban structure.
Iftikhar is a symbolic painter. His forms and motifs have a specific explanation. From the commencement of his career, wheels, broken wheels, horses and watches have appeared in his works. These elements symbolise time, history and power. His works also denote progress and prosperity of a time.
The artist, who is busy with his upcoming exhibition, now works mediums like oil, acrylic, mixed media and collage.