Samurai scared!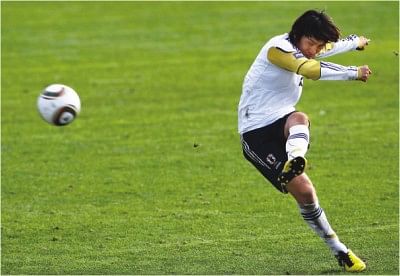 Alarmed by South Africa's notoriously high crime rate, Japan coach Takeshi Okada has told his charges to stay firmly inside their luxurious hotel while at their base camp.
"This is a country where you can rent a machine gun for 10,000 yen (110 dollars)," Okada said when asked what he had told the Blue Samurai players at the start of their first training session upon arrival in George on Sunday.
"There are people who may think it is alright to borrow 10,000 yen and then earn 50,000 yen," he told reporters. He was quick to ask diplomatically: "Don't you write about such a thing."
But it was too late as the Japanese media were hungry for news while stuck in this sleepy, sun-kissed tourist resort along South Africa's scenic "Garden Route" coastline which is considered relatively safe.
Okada said he had told the players "not to go out in a carefree manner." He also advised them to ask the hotel manager for a guard to accompany them when they want to go out shopping. "They should stick with other people."
Underdogs Japan, fighting back from four straight international defeats before their World Cup Group-E opener against Cameroon on Monday, are being lodged at the five-star Fancourt, South Africa's premier hotel and golf estate.
They are occupying 50 of the 150 rooms there, accompanied by chefs from home and paying an estimated 670 dollars a night for a room in four-room cottages.
The sprawling, 613-hectare estate is surrounded by an electric fence with four guards seen at its main gate, as big as a football goal. Two of them are armed with guns.
Fancourt has three golf courses designed by the legendary Gary Player, a conference centre, recreational facilities with a spa, and a variety of restaurants including a sushi shop.
It has been considered a good luck spot for Japanese since 2005 when Japan's Ai Miyazato teamed with Rui Kitada to lift the inaugural women's golf World Cup there.
Kashima Antlers defender Atsuto Uchida, set to join Schalke 04 after the World Cup, quipped about the near curfew. "Being a football player, I can learn about different cultures."
Fancourt's peaceful atmosphere has caught the fancy of key centre-back Yuji Nakazawa. "There are many spots to stroll around. I want to visit them all while I am here for one month," the 32-year-old said, indicating he hopes to stick around for the grand final.
Japanese journalists, accustomed to safety in their disciplined country, have been also told to put up guard after two South Korean television producers were reportedly attacked by thieves in Johannesburg.
"Japanese are seen as easy targets for thieves," Hideyuki Sakamoto, the minister at the Japanese embassy in Pretoria, said at a media seminar before the Samurai's training on Monday.
He said one Japanese was robbed of everything in Cape Town on New Year's eve. "He really looked as if he was saying,'Come and rob me.'"
His embassy will deploy a five-men "mobile unit" to help Japanese in distress at every venue for Japan's matches against Cameroon, the Netherlands and Denmark.
"They will be dressed in orange jackets. But don't mistake them for the Dutch team."