Global acclaim for BRAC Bank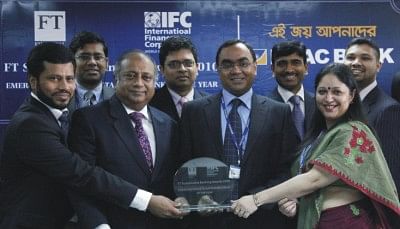 BRAC Bank has clinched the 'Sustainable Bank of the Year 2010' award at the FT Sustainable Banking Awards, said a statement.
The award was jointly announced by Financial Times newspaper and International Finance Corporation, a member of the World Bank Group, at an award ceremony on Thursday in London.
Now in the fifth year, the awards recognise banks and other financial institutions that have shown leadership and innovation in integrating social, environmental and corporate governance considerations into their operations.
BRAC Bank was awarded under the 'Emerging Markets in Asia' category.
Executive Vice President of IFC Lars Thunnel presented the award to BRAC Bank Chairman Muhammad A (Rumee) Ali and Chief Executive Syed Mahbubur Rahman. Bangladesh Bank Governor Atiur Rahman was also present.
More than 250 senior bankers and decision-makers in the area of sustainability attended the programme.
The event followed a one-day Sustainable Banking Conference organised by the Financial Times and IFC.
"We are seeing much greater commitment by financial institutions in both developed and emerging markets to make sustainability a core part of their business," said Martin Dickson, deputy editor of Financial Times and co-chair of the awards' jury panel.
"The award is a global recognition of the unique contribution BRAC Bank has made in establishing a bank that truly believes in socially responsible banking and is making a difference in the lives of many small businesses all over Bangladesh," said Ali.
"I'm sure the BRAC Bank model will be replicated in many countries in the years to come. This award has made Bangladesh proud."
Broadening financial services to the poor and helping raise living standards around the world is good for business and the global economy, said Thunell.