In China, balance of power tilting toward workers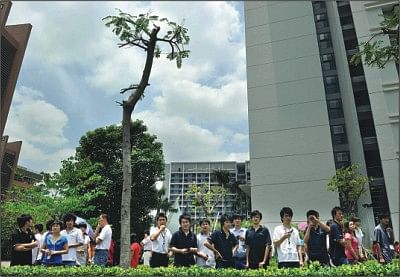 A rare burst of labour unrest in China has been resolved with hefty pay increases, illustrating how the balance of power in the country's vast factories is slowly but surely tilting toward workers.
Rising wages in the workshop of the world might seem to pose unsettling implications for the global economy in the form of thinning profits for companies and cost inflation for consumers.
But this disregards more important, positive developments. By spreading the fruits of China's stunning growth more evenly, higher incomes will help to boost domestic consumption and rectify imbalances that have dogged the global economy.
"If China wants to build up a new growth model driven by consumption, you have to find a channel to redistribute GDP more to labour, especially to the low-income class," Ting Lu, an economist with Bank of America-Merrill Lynch, said.
"Now this is being not just driven by politics, but by a natural changing balance in the demand and supply of labour."
Honda Motor Co this week gave a 24 percent pay raise to striking workers at a car parts factory in southern China. The plant resumed full production on Wednesday.
Foxconn on Wednesday said its workers in a different part of southern China would get 30 percent raises after a spate of suicides cast a troubling light on conditions at its factory which churns out top-tier electronic products, including Apple's iPhone.
The Honda and Foxconn stories have been sensational in a country that stamps out strikes and suppresses unflattering news, but they are just a small part of a much broader wave of wage increases in the Chinese manufacturing sector.
Pay for China's 150 million or so migrant workers increased 19 percent in 2008 and 16 percent in 2009, even though exporters were hit hard by the global financial crisis, according to Cai Fang, head of the Institute of Population and Labour Economics with the Chinese Academy of Social Sciences.
"Overall Chinese income levels, especially for blue-collar workers, are expected to grow faster than before because fewer new workers will enter the labour force every year," said Maggie Li, an analyst at Mercer, a human resource consultancy.
This trend will accelerate from about 2012, she said.
In economic terms, China has arrived at its Lewis turning point, a period in development when the economy shifts from a labour surplus to a labour shortage and wages start to increase more rapidly, especially for the unskilled.
Chinese workers have made big strides in recent years in absolute terms as their wages rose about 8 percent a year. The problem is that these increases have not kept up with the broader economy, which has boomed at a double-digit pace.
Labour's share of national income declined to 39.7 percent in 2007 from 53.4 percent in 1996. During that same time, the corporate share rose to 31.3 percent from 21.2 percent, official statistics show.
"China's wage level has stayed very low for a long time despite some increases in recent years and this has depressed domestic demand," said Yang Yiyong, a research director of a think-tank under the National Development and Reform Commission, a powerful economic planning agency.
Beijing has declared the promotion of private consumption to be a priority as it seeks to re-orient the economy away from a model that has relied too heavily on investment and exports.
The central government has launched a flurry of incentive programs to encourage people to buy home appliances in the countryside and cars in cities. It is also building up the social safety net to stimulate more discretionary spending. And some cities have even started offering shopping vouchers.
But nothing will be as powerful as income growth.
"A 100 percent increase in wages of lower-income earners will generate about a 70 to 90 percent increase in consumption," said Wang Han, an economist with research firm CEBM.
Huang Yiping, an economist at Peking University, cautioned that the government cannot sit back and wait for higher incomes alone to boost consumption. It will have to craft policies that promote the service and skilled-labour sectors to ensure the continued creation of jobs as wages increase.
For the world economy, the conclusion is more unambiguously positive.
Rising Chinese wages point to an inexorable, if gradual, reduction of its whopping trade surplus. Prices of manufactured goods may increase a touch globally, but other countries will step into the breach.
"Low-income countries should be able to grow more rapidly in labour-intensive industries. Almost all other countries should experience improvement in their current accounts," Huang wrote in a recent research paper.
As the cost of labour increases, China's potential growth rate will inevitably slow to about 9 percent a year from 11 percent, said Lu of Merrill Lynch. But that is still very fast and nothing to fear, he added.
"If we want to seek sustainable growth and if we want to seek happiness, maybe in the next stage we will focus more on redistribution than growth," Lu said.