Green signal to unified education system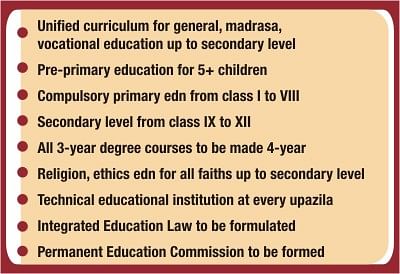 The government yesterday approved the National Education Policy, 2010 introducing several compulsory subjects to primary and secondary levels of general, madrasa and vocational education in order to establish a unified schooling system.
The government is yet to confirm whether English medium institutions of Bangladesh would be under this policy.
The policy expands free education up to class-VIII from the previous class-V in phases at government and government-funded institutions.
Compulsory primary education was also extended up to class-VIII from class-V and secondary education to class-XII.
The policy seeks to bring all students of the country, irrespective of their religions, genders, physical limitations, socio-economic and geographic locations under one system.
Education would be relevant to the country and it would be consistent with the spirit of the Liberation War, a synopsis of the policy given to the media reads.
The synopsis says a one-year pre-primary education for children over five years old would be introduced.
The policy is non-communal but there will be compulsory subjects on religion and ethics for students up to class-VIII. The policy dropped the word "secular" from its draft to make it acceptable to all segments of the society.
Information and Communication Technology (ICT) and Bangladesh Studies have been introduced to primary and secondary levels.
At the higher-level studies, duration of all degree courses has been made four years instead of the previous three years.
The cabinet meeting chaired by Prime Minister Sheikh Hasina approved the new policy.
Education Minister Nurul Islam Nahid told the press following the cabinet meeting that a public examination like the Secondary School Certificate (SSC) examination would still be held for students of class-X.
Prime Minister's Press Secretary Abul Kalam Azad while briefing newsmen after the cabinet meeting said, "A committee would be formed soon to implement the education policy." He, however, did not specify when the implementation would start.
Two cabinet ministers told The Daily Star after the meeting that the prime minister told her colleagues yesterday that problems or questions regarding implementation of the policy would be solved case by case whenever they arise.
The cabinet applauded prime minister for formulating the unified education policy. The premier said the education policy would help build a modern Bangladesh and make Bangladesh's education system international standard.
People will be enlightened with education on science, ICT and ethics and at the same time teachers will get more benefits, Azad quoted her as saying.
Since the independence of the country, eight education commissions and committees were formed but their recommendations were not implemented due to lack of political will to do so, sources said.
On April 6 last year, the Awami League-led government formed a 16-member committee to review the reports of Shamsul Haque's education committee of 1997 and Qudrat-e-Khuda's education commission of 1974.
Led by National Professor Kabir Chowdhury, the committee submitted the draft policy to the education ministry on September 2 last year.
The ministry put the draft policy on its website for public opinion. It analysed and reviewed all opinions on the policy.
However, the draft policy sparked protest from some religion-based political parties and organisations.
The education ministry then reviewed and brought some changes to the policy but kept intact its basic features, ministry officials said.
The policy synopsis says primary education will be free, for all and compulsory up to class-VIII and stipends would be given to students on the basis of results in class V. All students will have to study their own religion and ethics.
It said the secondary education level would be from class-IX to class-XII and a uniform curriculum and syllabus will be followed in general, madrasa and vocational levels.
The compulsory subjects are Bangla, English, Mathematics, Bangladesh Studies, Paribesh Parichiti (education on social environment and climatic change), Information Technology and Science.
On higher education, the policy advised turning all three-year graduation courses into four-year honours courses in phases. A student completing a four-year honours course will be entitled to all professions in his field.
The committee proposed decentralisation of the National University with centres in all divisions. These centres will later turn into universities and colleges in its jurisdiction will be affiliated to it.
The policy says technical education institutions would be established in every upazila and the number of educational institutions on polytechnic, textile and leather will be increased.
On madrasa education, it said the students of primary and secondary level must study uniform curriculum and syllabus.
Teachers will be given more facilities alongside more and modern training, the policy said. It said steps would be taken to frame an integrated education law and form a permanent education commission.
The education minister in his instant reaction said the dream that he had for 14 years has come true. He said education is dynamic and changes could be made to the policy if required in future.
He also said terminal examinations after class-V and class-VIII will still be held and stipends will be given based on their results. He said the policy would be made public through a gazette notification within a few days.
Asked whether children would be sitting for too many exams, the minister said they want to ward off exam fears from children.
Regarding implementation, he said they have already started implementation of the policy as the terminal exams for class-V have already been introduced.
Implementation of the policy is a lengthy process and the government still has three and half years, he said, adding that during that time it would be able to implement many things of the policy.
About Qwami madrasa, he said they have asked the people who run the madrasas to form a commission and determine what they want to introduce in their madrasas.
All educational institutions of the country have to register with the government to gain legality, sources said.