World Cup fever, Bangladesh-style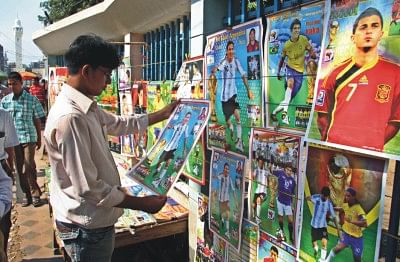 Don't get me wrong. I am second to none in my obsession with the World Cup, and have been since I tuned in to my first one in 1978. Go ahead, ask me anything.
But all the same, I don't know. There is something decidedly odd about World Cup fever as it manifests itself in Bangladesh.
The whole world looks forward to the World Cup every four years. But, as far as I know, we are the only country where people actively identify with and support a country that they otherwise have no connection to.
In Bangladesh, the big two are Argentina and Brazil, and I only need to go as far as my own office at the Daily Star to witness our devotion. The newsroom and canteen are festooned with Argentinian and Brazilian flags, and the more avid fans have already started sporting their team jerseys to work.
Just last week, Bangladesh hit the international headlines when two neighbouring villages, one in the Argentina camp and one in the Brazil camp, squared off against one another in armed clashes that left 30 injured. British hooligans have nothing on us.
I have long tried to argue to my fellow countrymen and women that you can't support a country the way you support a club team.
Club teams are appropriate vessels for support sitting in Bangladesh. One can support Manchester United or Barcelona or Inter Milan, as club loyalties are self-identifying tribal loyalties, with little rhyme or reason, that cut across national lines. Big clubs have supporters in every corner of the planet.
But what is unique to Bangladesh is that we have adopted this attitude towards international sports. In vain do I argue that there is something a tad unseemly in supporting another country and that we are the only country on Earth that indulges in such foolishness.
It is fine to have a soft spot for certain countries. It is fine to want certain countries to win against other countries. But it is surely bizarre to support a country with that level of identification unless you are from there.
Only Brazilians can legitimately be Brazil supporters and only Argentinians can legitimately be Argentina supporters in the true sense of the word. There is a nationalistic element to supporting a national side that cannot just be ignored.
The fact is that in any other country this kind of support for another country's national team would be unthinkable. Only in Bangladesh.
Of course, this is the case in cricket, too, with India and Pakistan being the two most widely supported teams. Again, there are many who support one side or the other without any recourse to the underlying politics of their support, and divorce their support for the side from any greater identification with the country.
Frankly, I have always found Bangladeshi support for Pakistan's cricket team a little off, but many Pakistan supporters insist that their support is not a political statement. Their support, they claim, has nothing to do with fondness for or identification with Pakistan as a country, but only with the attractive brand of cricket that they play.
Yeah, I don't know. I remain doubtful.
Fortunately, we now have our own team to support, but when Bangladesh isn't playing, people still maintain their loyalty to other countries.
I can't help but think that all this somehow reflects poorly on us as a nation. I don't know of any other country where this is the case. And certainly there is no other country where people engage in fisticuffs on behalf of a country that has nothing to do with them.
Perhaps I am looking at this all wrong. Perhaps I should be proud that we are so post-nationalistic. But I am afraid that I can't help seeing this support as a fundamental misunderstanding of the very nature of international competition. And don't even get me started on what it suggests about our national pride.
Still, I begrudge no one their enthusiasm for the World Cup, and if people want to support Argentina or Brazil, or North Korea or Slovenia, for that matter, I guess, it's their business. Knock yourself out. But you have to admit: it's kind of odd. That's all I'm saying.
Incidentally, full disclosure: that first World Cup in 1978? I supported Scotland with all my heart and soul and was crushed when they crashed out of the tournament. But, in my defence, I was only 8. I didn't know any better.
Zafar Sobhan is Editor, Editorial & Op-Ed, The Daily Star.